5 min read
Using SAP in manufacturing for increased productivity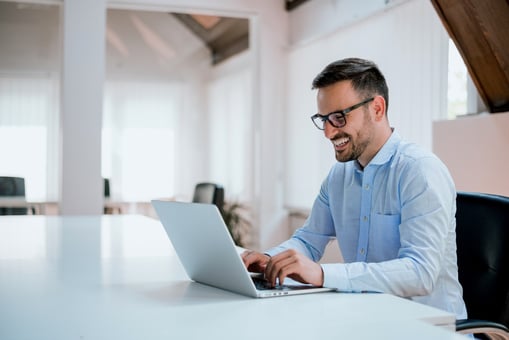 As the landscape continues to become more challenging, it's safe to say automation is the future of manufacturing. Changing customer demands, supply chain constraints and pressure for faster turnaround are some of the realities that companies face. This has predicated an industry-agnostic need for a hands-off approach to manufacturing. SAP manufacturing offers a transformative end to end manufacturing process for more resilient, future-ready enterprises.
This article offers insight on how to leverage SAP for Industry 4.0 as well as navigating issues that may arise by covering:
What is SAP manufacturing?
SAP and the future of manufacturing
IoT in manufacturing
Cloud computing in manufacturing
AI and machine learning in manufacturing
What is SAP manufacturing?
SAP Manufacturing is a module in the SAP ERP system that helps manufacturers manage their production processes. It includes features for materials management, quality management, and plant maintenance.
Undoubtedly, SAP is the most capable enterprise resource planning (ERP) system, and this is true for several reasons. For one, SAP is not only feature rich, but also modular and customizable to the varied needs of your business. Moreover, it's scalable, user friendly and offers reduced implementation times.
Utilizing SAP manufacturing processes offers a real time look at all stages of manufacturing. SAP manufacturing software helps optimize processes and improve efficiency, through tools such as SAP manufacturing intelligence, integration and analytics (SAP MII).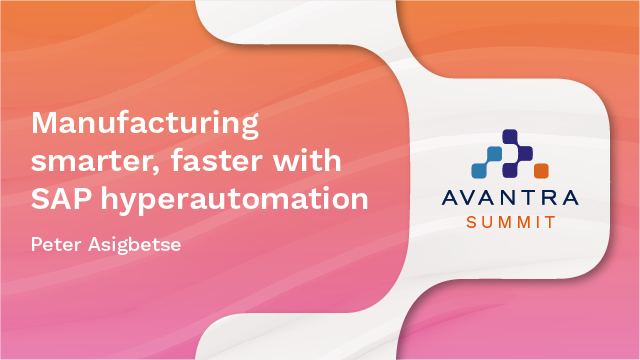 More often than not, the manufacturing SAP system exists as an island. Avantra seamlessly integrates with your standard operating procedures for a single point of truth overview of almost every SAP component.
The future of manufacturing: Industry 4.0
Industry 4.0, or the fourth industrial revolution, marks a significant change to how we make, iterate and distribute products. It completely transforms the shop floor and all related procedures through the integration of the emerging technologies discussed below:
Internet of things (IoT)
The Internet of Things refers to physical objects equipped to be interrelated and capable of exchanging data with other devices and systems through communication networks such as the internet.
For instance, machines used in manufacturing can be fitted with sensors and assigned IP addresses. This way, they can connect with other machines and computer systems, allowing for significant amounts of data to be gathered, analyzed and shared.
IoT offers numerous benefits for manufacturers such as:
Improved efficiency
Better machine life
Enhanced safety for workers
Improved agility
SAP offers an IoT solution through its business technology platform. This has recently been enhanced with features such as smart sensing, which makes it possible to automatically connect object movements with specific steps in business processes. As a result, manufacturers enjoy faster, effective issue resolution, reduced errors and optimization of raw materials.
Cloud computing
With cloud computing, services and resources such as servers, storage and software are available on demand and accessed through web based tools. SAP offers an enterprise cloud computing solution through its SAP digital manufacturing cloud (DMC).
The SAP DMC structure features three distinct extensions for business processes, user interface and machine learning. SAP's cloud computing offers immense benefits including simpler integration of new machines to your plant, a wealth of manufacturing insights, integration with third party services and comparative performance.
Learn about the biggest SAP cloud challenges in the manufacturing industry and what you can do. Read our manufacturing cloud challenges whitepaper now.
AI and machine learning
Artificial intelligence and machine learning extend information gathering beyond factory floors and into multiple business units. Over time, as systems, processes and equipment are analyzed, businesses can leverage the vast insights generated to make operations more predictable.
Recurring issues can be identified and addressed and patterns emerge, while equipment malfunctions are better anticipated. As a result, manufacturing is greatly optimized for higher uptimes and efficiency. Moreover, many critical business processes can be automated.
SAP Manufacturing constraints and technical issues
Manufacturing experts face several constraints that hinder their ability to maximize SAP capabilities. Though very advanced and highly capable, Industry 4.0 components aren't infallible. Their reliability on interconnectivity poses cybersecurity threats that render SAP security monitoring a necessity. Despite their capacity for automation, manufacturing processes and systems are prone to technical issues that could very easily grind operations to a halt, resulting in massive losses of productivity, inputs, and margins.
SAP manufacturing security concerns
SAP stays ahead of security vulnerabilities by offering HotNews, but it can be challenging to identify which HotNews are relevant to your SAP systems. Avantra Enterprise automatically deciphers the relevant system software components, cross-references this against your unique SAP environments and immediately lets you know which systems the HotNews applies to.
Unlock the full power of SAP manufacturing with Avantra
It can be difficult to keep up with continuously emerging technologies, approaches, features and tools that come with the pressure to learn, adapt and master. At Avantra, we make it our core mission to offer comprehensive solutions that address manufacturing constraints that eliminate downtime and provide a seamless end to end experience.
As the industry leading AIOps platform for automated SAP operations, Avantra ensures everything runs smoothly, removing distractions so your team can focus on innovation.
Global organizations improve their SAP performance, realizing reduced effort and costs with Avantra's full stack automation.