Next generation AIOps
Unlocking innovation
and wellbeing
Free your team from the mundane - power innovation
and deliver a secure and reliable business experience

Why choose the Avantra AIOps platform for your enterprise SAP landscapes

?

Are you feeling the weight of digital transformation on your shoulders? The burden of system complexity, rapid change initiatives, and the pressure to deliver within weeks, not years? When you're also grappling with an industry wide talent shortage, we don't blame you for worrying about the wellbeing of your team. We know how hard it is to focus on IT operations when your headspace is consumed by transformation projects. Avantra can help you get your head above water. Sleep better at night knowing that your mission critical SAP systems are safe and secure.

In an environment of increasing pressure and pace, Avantra AIOps platform for SAP software gives you and your team space to breathe. Time to innovate. Freedom to think. And this is when ideas come together, quickening the pace for digital transformation. Supporting businesses like yours - wherever you are on your transformation journey - Avantra helps you - unlock innovation and wellbeing in your teams.
More power to your people
Say goodbye to those repetitive tasks, free your team to focus on the good stuff and improve their wellbeing. Avantra AIOps platform for SAP systems gives back 50% of time to your most valuable people. Empower them to let go of endless alerts and embrace innovation.
SAP software at the heart of everything
ERP operations is too critical to leave stranded. Relocate your SAP application island and bring the power of ERP data to the wider world of ITSM. The Avantra Enterprise Edition seamlessly integrates with your standard operating procedures.
Feel safe, stable and secure
Feeling on edge about SAP solution reliability? Give your brain some downtime while delivering business uptime. Avantra next generation platform spots and resolves problems before they hit. So you can lean into a better business experience, safe in the knowledge that your SAP landscape is sound, steady and secure.
The industry leading AIOps platform for SAP landscapes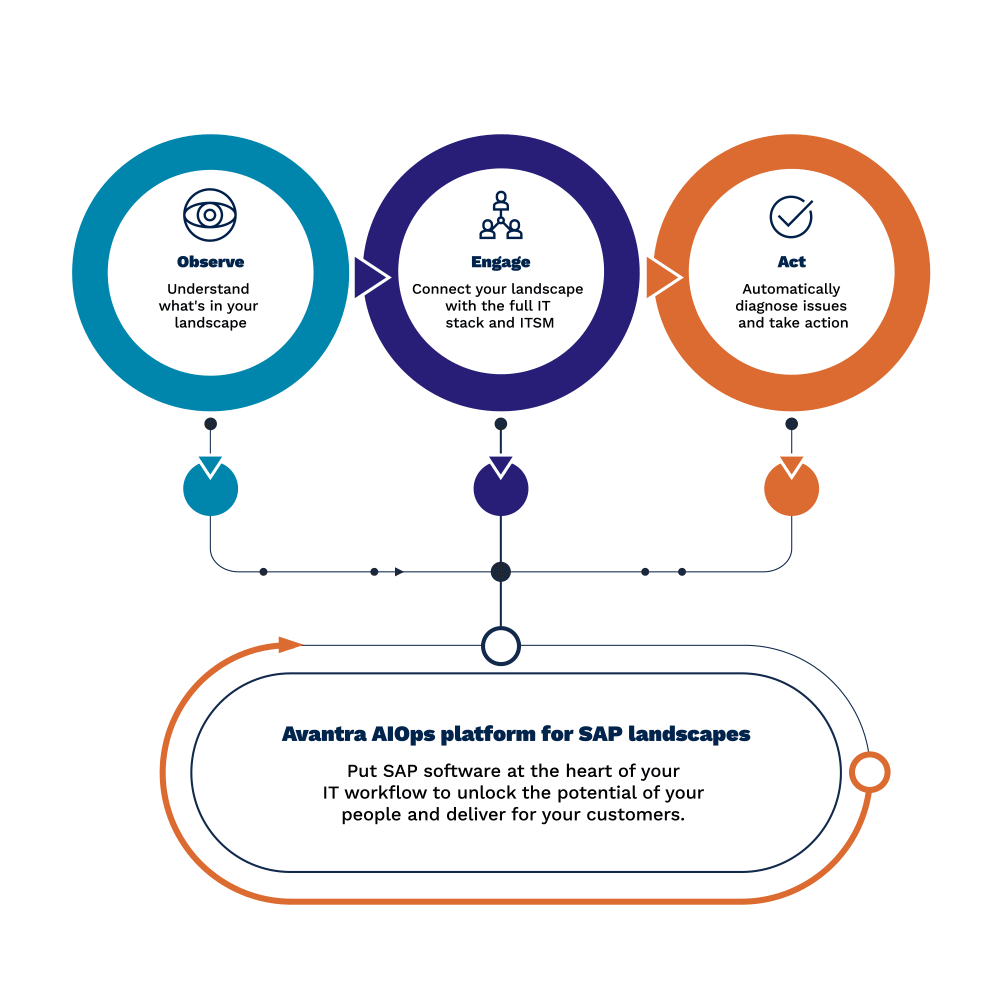 Pillar 1
Hover to reveal addiitonal detail.
Pillar 1
Hover to reveal addiitonal detail.
Pillar 2
Hover to reveal addiitonal detail.
Pillar 2
Hover to reveal addiitonal detail.
Pillar 3
Hover to reveal addiitonal detail.
Pillar 3
Hover to reveal addiitonal detail.
I had one employee spending at least 10 hours every week just maintaining the SAP Solution Manager. Now we don't have to do it at all. We're very happy with Avantra.
Alon Senderovitz, SAP Basis Manager
We've decreased the department's administrative burden, freeing the team to pursue new, valuable business initiatives. New systems can be added to the monitoring process in an efficient and effective way.
Olaf Eichkorn, Leader of SAP Basis Team
What sets Avantra apart from other SAP monitoring vendors is the intuitive usability, the high degree of flexibility, the software's rapid ROI, and its unmatched and extremely helpful support. – Avantra enabled us to boost the efficiency of our IT service management processes and prevent downtime of revenue-critical processes in our smart factories.
Daniel Muller, Head of IT Data Center Services
Lift the weight of digital transformation off your shoulders
Say goodbye to sleepless nights. Say hello to Avantra next generation AIOps platform for SAP software
Make resilience a strategic advantage
In this 5-part series, Avantra brings you experts from AWS and Red Hat to unlock the innovation frameworks you need to build relentless reliability for your organization. Learn how automation in SAP operations needs a special approach that leans on domain-specific solutions. Brought to you by Avantra, AWS and Red Hat.
Watch the 5-part Relentless Reliability series
Join the world's most innovative companies that trust Avantra