Technologies
End-to-end IT operations: Your entire landscape, integrated the right way.
Seamless Integration
with the Technologies that Power Your Business
Today's enterprise landscapes are complex mixtures with many moving parts, running a variety of applications and databases from different technology providers, as well as in the cloud, on-premise, SaaS, and IaaS.

Avantra provides in-depth visibility and management automation to support proactive IT operations across a broad landscape of applications and environments.
Managed Technologies
We manage a variety of technologies—because every SAP-centric landscape is unique.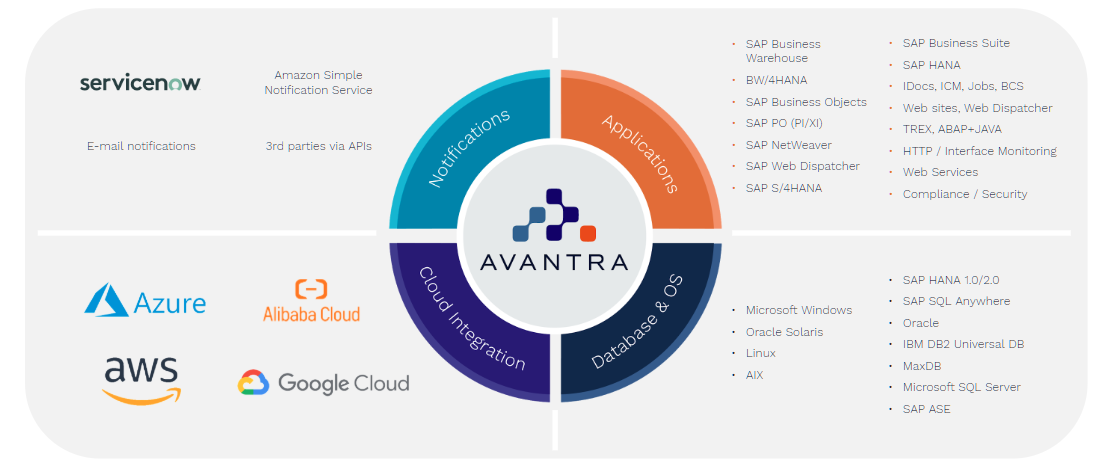 Cloud Integration
The only solution that makes cloud environments truly dynamic when running SAP.
As organizations consider migrating SAP to the cloud, the SAP landscape is expected to become more dynamic and respond to the business needs like never before. Typically a business will keep at least part of its business on-premise, thus creating a hybrid cloud/on-premise landscape. However, reducing costs and ensuring consistency in an environment with a footprint that constantly expands and shrinks is challenging.
That's why Avantra provides native integrations with AWS, Azure, GCP, and Alibaba Cloud, each with a quick and easy connection set up. Avantra also provides monitoring for SAP SaaS and third-party non-SAP SaaS applications and web services, as well as direct integration with the asset and incident management capabilities of ServiceNow.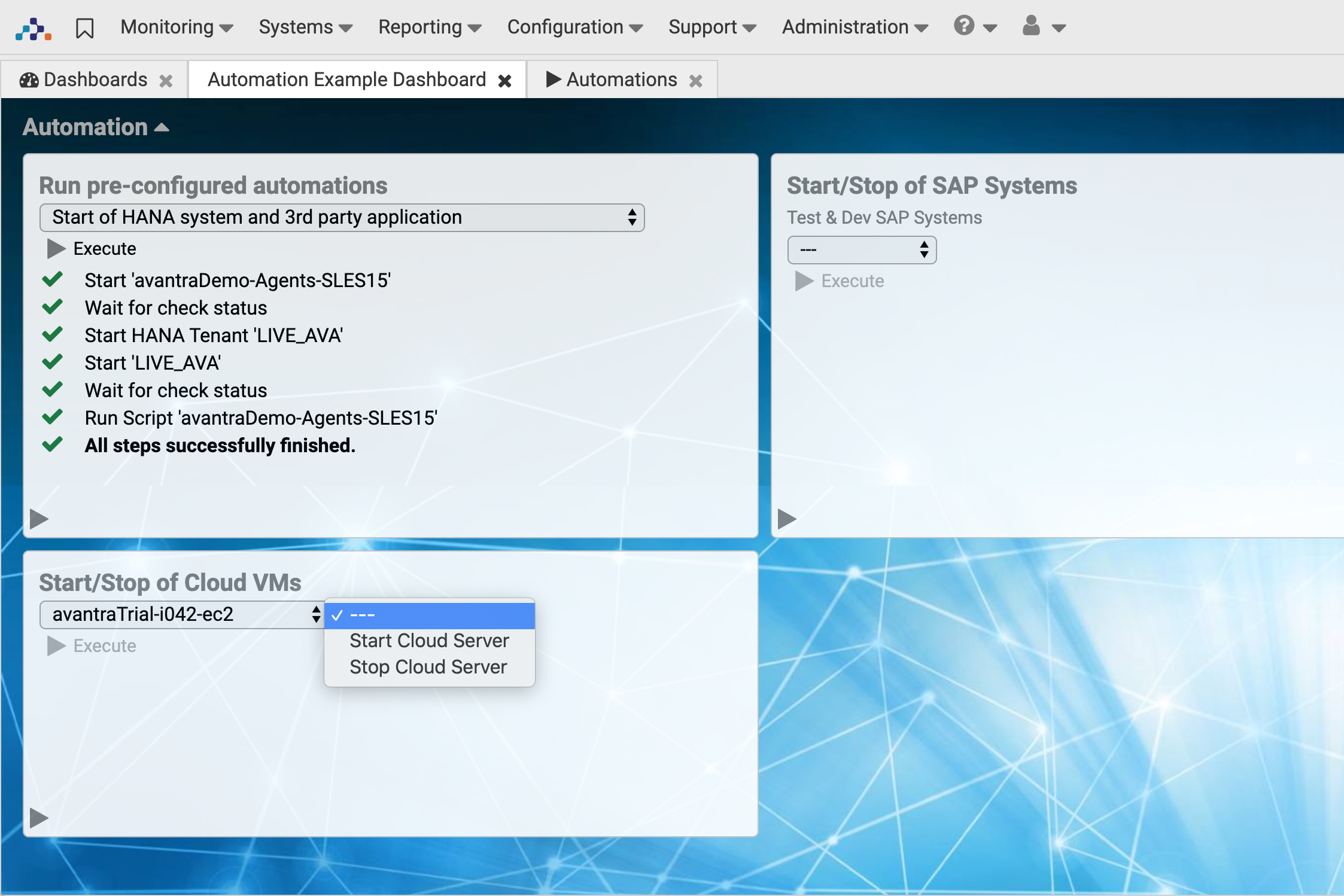 SAP Ecosystem
Monitor, manage, and automate any component in the SAP ecosystem.
As an SAP Technology Partner and technology provider for SAP-centric business, Avantra provides monitoring, management, and automation for a wide variety of SAP products across your entire landscape. But the SAP ecosystem is comprised of more than just SAP-supplied products and databases. Avantra can provide automated operations of both SAP and non-SAP applications, databases, application server, web server, web services and more.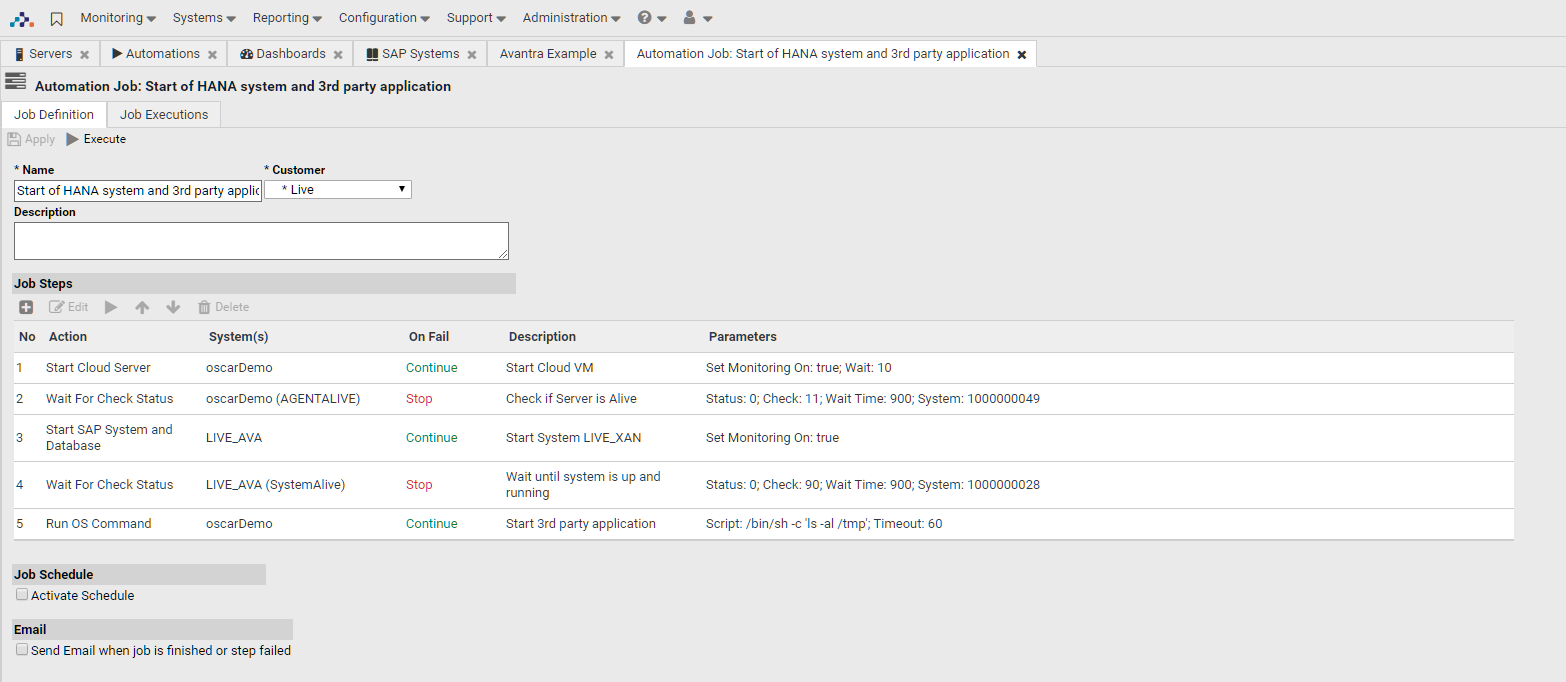 Avantra Partners
Innovative, strategic, and solid technology partnerships to ensure your success.
At Avantra, we build technology to help SAP-centric enterprises and managed service providers (MSPs) achieve operational excellence. We also partner with some of the world's most innovative technology companies to further ensure that success, including SAP, ServiceNow, Amazon, Microsoft, Google, and Alibaba. Together, we've built strong, stable relationships that let our joint customers rapidly and effectively automate, act, and adapt their SAP operations.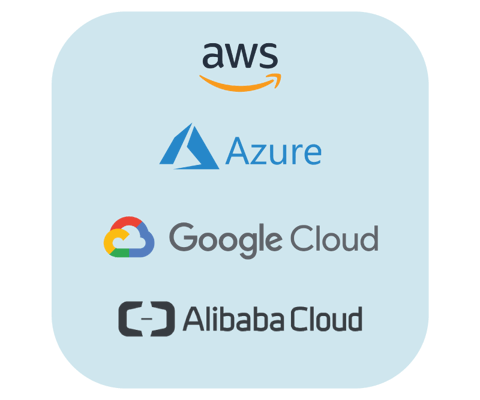 Open APIs
Go out of the box and integrate your own applications with Avantra.
Just as no man is an island, no enterprise software operates in a vacuum. At Avantra, our goal isn't to duplicate the functionality of other enterprise systems but, rather, to enhance their effectiveness by providing performance monitoring, management, and automation for SAP and other vendors' applications. By providing open APIs that access Avantra data as well as pre-built integrations to other vendors and applications, we invite application vendors and our own customers to join us in building better, stronger, more resilient applications.


Increase SAP Automation, Operational Transparency, and Actionable Insights with a Single Solution
Using Avantra we prevented 2 Major Failures in SAP Production Systems. We've also reduced server updates implemented to just 1 to 2 hours, post-processing of system copies reduced from 3 hours to 3 minutes and adding a new system to the monitoring process reduced from half a day to just 30 minutes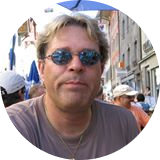 Head of SAP services | Migros