4 min read
Sapphire 2023 - the key 3 imperatives for business leaders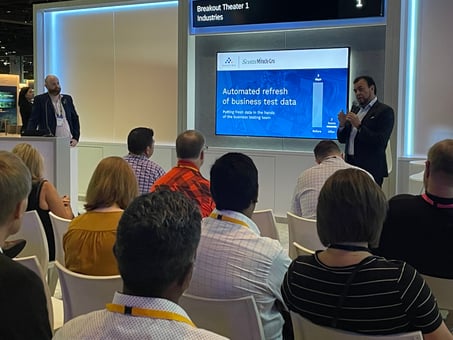 With the 34°C / 104°F heat and a far cry from the 18°C / 64°F I returned home to, it was time to reflect on SAP Sapphire Orlando 2023, the trade show that was the first, in my opinion, post pandemic Sapphire since 2019. Over 13 thousand business leaders, partners and SAP staff descended on the Orange County Convention center in Orlando, Florida to discuss and debate all things SAP. So what were the key takeaways from my side?
AI and RISE with SAP are key aspects of SAP's future
SAP CEO, Christian Klein, took the stage on Tuesday morning to welcome everybody and put AI firmly at the front and center of the entire conference. With guest appearances from Microsoft, Google and others, combined with an increasing industry fascination with ChatGPT and other similar concepts, it was clear that this was to ring true for Sapphire as well. All of this was linked to the push for customers to move to RISE with SAP all with the mantra of "Keep the core clean" and bring all competitive advantage customizations to SAP's Business Technology Platform.
For us at Avantra, this linked nicely to the announcement we made to ensure that those considering RISE are confident they can cope with the responsibilities they are left with. As a customer or managed service provider, you retain significant responsibility for the running of your system, from application errors to configuration and set up, and this is what we wanted to protect for SAP customers across the board (RISE or Not).
This is why, at Sapphire 2023, we launched Avantra Cloud Edition for RISE with SAP in recognition of the existing responsibility that is held by SAP customers even if they choose to go forward with RISE. As one customer put it, "I am still responsible for how my business uses the software and this is not covered by RISE", leaving a hugely significant gap not easily filled by traditional IT teams. This is why Avantra Cloud for RISE with SAP was born. An edition designed by SAP operations experts to cover the gap between RISE and reality.



Automation is the key differentiator
On Tuesday, I took the stage with Ricardo Bartra, CIO and SVP of the Scotts Miracle Gro company, to talk about their hyperautomation journey. Hyperautomation for Scotts is all about enabling the business to move and run faster and stronger and this is what we discussed. Optimizations that allow the business to have near permanent up to date business test data are dramatically derisking business transformation projects. Ricardo told me how, together, we have taken a 3 day manual test data refresh process and compressed this to a 2 hour automated effort and enabled the business to have refreshed test data on demand, a feature that is thought impossible for so many enterprises across the globe.
Avantra's partnership with Scotts is entering its 3rd year and this is a cornerstone benefit that the business is truly thriving from. For Scotts, 3 days to 2 hours, over an entire year is more than 70 hours of system testing time returned to the business over 12 refreshes, or let's put in percentage terms, the business test systems are over 15% more available to the business teams throughout the entire year. This means that for every test cycle run previously, Scotts can now run 3x. This derisks business transformation projects by a huge factor just through this automation.
Automated security is no longer optional
During the event I was reminded of my presentation with Mathias Lang at SAPInsider in Las Vegas. Mathias is from the Swiss managed service provider UMB. We discussed and debated the dawn of a new era for managed services where automation and services are delivered on a foundation of automation. Mathias talked about the nearly 40 hours of monthly manual security analysis that his team had automated across their customer base to bring near instant system impact reports. This meant that each and every patch Tuesday, rather than sitting and analyzing SAP HotNews or Security Notes, his team personnel was holding instant impact discussions with their clients based on the automated analysis Avantra provided.

The key message here is, if you're still doing automated security analysis by hand for each alert, you're falling behind those that have already automated this task. In 2022, there were north of 4.3 critical vulnerabilities per month (or 52 in the year) in the SAP space alone. We know that malicious actors and teams WILL react faster than us so we need to do everything and anything we can to speed up our responses. This is exactly what we have done with UMB.
Conclusion
Orlando 2023 was another successful and energizing Sapphire 2023 for us here at Avantra. I spent a huge amount of time with our customers and prospects that are doing everything they can to keep up with and adapt to an ever changing and disrupted business IT environment. It may sound disingenuous from the guy talking about an automation solution, but the key theme we observed was the desperate need for autonomous operations across each and every business.

Without automation of the mundane and ever present operational tasks, how can we ever hope to achieve competitive advantage? Even I, as the Chief Customer Officer of a commercial product in the automation space, came away with ways (here at Avantra) that we must adapt our business to the changing environment.

We're all in this automation journey together and I, for one, aim to make it as easy as possible by learning from others and adopting best practice accelerators where I can. What I observed from my conversations at Sapphire 2023 is a community that is in exactly the same boat.

Get in touch with one of our AIOPs experts to find out how the Avantra Cloud edition for RISE with SAP can help support your business.