For an SAP expert like you, the prospect of a modernized and SAP-focused operations platform is something that will bring obvious benefit to the life of you and your team. Whether it be reducing the daily-check workload or getting proactive alerts before something goes wrong, the positives to be realized are clear. But that may not be the case for the rest of the business.
As long as the SAP landscape remains functional and as long as there are no costly business outages, there can be little appetite for investment around SAP (or even broader IT) operations optimization and automation. This is why we have brought together a number of tools to help articulate the benefit and help you gain support for this journey, including:
More time for strategic projects and innovation

Reduced unplanned business outages

Increased security and stability
---
More Time for Strategic Projects and Innovation

"Through a significant reduction (on a daily basis) of the manual effort for the operations team, there will be hours of additional time (per week) that can be utilized to move the business forward. Whether that be digital transformation projects, automation projects or anything else."
This is the right narrative for operations leaders and your CxO. They want to know how an investment in this space helps them with their strategic goals. Those goals will be linked to specific projects and, with a modernized operations platform, you can better support this with time and tooling.

Transform operations through automation
Automation is the top technology SAP customers are planning to use in the next 12 months (59%* ASUG/Avantra survey results).

"Looking for ways to automate and free up time
to work on more value-added activities."
*Download the 'How Automation Accelerates Innovation
for SAP Operations Teams' Whitepaper Now >>
Reduce costs/promote cost savings
Reduce the cost of maintaining so many different systems. Grow revenue and lower costs by getting new insights faster, while also lowering costs from legacy applications. Run the business while significantly increasing agility.
Reduce Unplanned Business Outages

"There is nothing more frustrating for a business owner than to find their business process at a halt because of a systems issue. This is especially true when the issue is something that could have been spotted ahead of time. Machines are the best at watching other machines and, quite frankly, humans are not good at this. A modern operations platform like Avantra allows for small or unusual issues to be detected and highlighted before they cause downstream issues for the business. Real-time monitoring combined with alerting and automation is a hugely powerful tool to significantly reduce unplanned business downtime."
This is the right narrative for business owners such as owners of manufacturing systems (MII) or logistics systems where an outage can inflict real monetary damage to your business.


Digitization and Growth
Digital transformation is a need for any business during the kind of season we are in. The goal is to get completely digital to run an uninterrupted 24/7 business, all part of the long-term strategy and focus for business growth. COVID-19 has not impacted digital transformation plans - simply prioritized or sped up.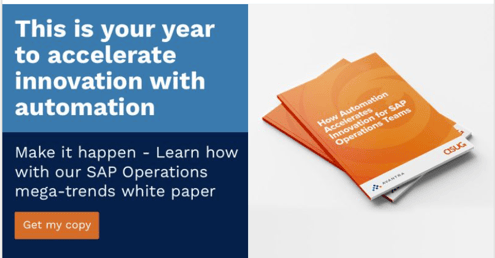 Increased Security and Stability

"Enterprise IT security is the ultimate game of cat and mouse where, in the majority of cases, the business is on the back foot to detect required updates, deploy patches and defend the core. A modernized operations platform like Avantra can be directed to constantly watch the landscape and help identify out of date software so we can be proactive and targeted in our efforts to keep up. Rather than searching the landscape for affected systems, Avantra can show us where what needs to be done, and where".
This is the right narrative for operations management and information security roles within your business. A modern operations platform like Avantra can be customized to give deep landscape insights from out-of-the-box checks for SAP, right through to custom checks to monitor non-SAP software. This flexibility gives you the power to stay ahead of the curve.


Reduce complexity of technology systems
The number of SAP and non-SAP systems (including cloud environments) that are integrated is the top factor that contributes to the complexity of organizations' technology systems (especially in the Oil & Gas and Aerospace Industries). Unique organizational factors including number of locations, global presence, and company size also tend to drive complexity.