6 min read
What's the secret to choosing the right SAP HANA migration solution for your organization?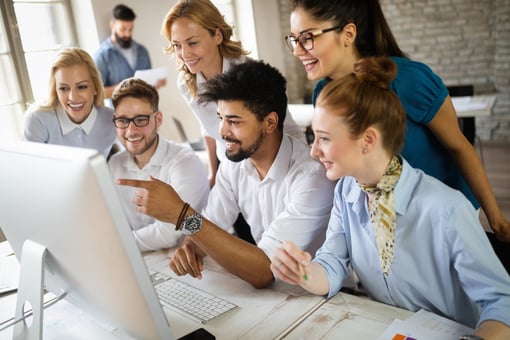 As a revolutionary column-based in-memory database, SAP HANA has been praised as one of the most notable technology innovations in many years.
SAP HANA Migration
Organizations entirely new to SAP can implement and benefit from using its comprehensive ERP solution SAP S/4 HANA almost right away – immediately gaining a boost thanks to rapid scalability, consistent efficiency and airtight security.
However, for organizations already powered by previous SAP versions such as SAP ERP Central Component (ECC), they still have some homework to do when it comes to their own SAP HANA migration.
In this article, we take a look at the SAP HANA migration process and share some tips on how you can choose the right solution for your organization.
Why migrate to SAP HANA?
For SAP customers who've spent a considerable amount of time and money building and maintaining their own custom SAP environments on SAP ECC, or the earlier SAP R/3 suite, the first question is often "Why should we migrate to SAP HANA at all?".
The most straightforward answer to this question is the fact that SAP will halt support for all legacy SAP systems (pre-S/4HANA) from 2027 onwards. Although this is still five years away, there's no time like the present to begin your organization's migration project in order to avoid any potential issues.
From an operational point of view also, many senior IT decision makers see SAP S/4HANA migration as an opportunity to make broader organization-wide changes. These changes, such as adopting the public cloud, can enable these organizations to become more agile and innovative – further driving their digital transformation in the process.
What are the benefits of SAP S/4HANA?
One of the main advantages of the SAP S/4HANA business suite lies in its system improvements helping to increase overall business performance.
Real time predictive analysis and reporting
By design, the SAP HANA database provides real-time predictive analysis and reporting. This is because the 'Online Transactional Processing' (OLTP) and 'Online Analytical Processing' (OLAP) can run on the same system. This can aid organizations in better managing their applications and processes by allowing them to plan, execute and generate reporting and analytics on 'live' data.
Reduced complexity utilizing the cloud
As part of an ongoing strategy towards reducing complexity for organizations, SAP have also created S/4 HANA Cloud edition in order to keep core development to a minimum. This allows non-core customizations via external applications, and makes the adoption of new functionality completely non-disruptive. Standard integrations for including other cloud solutions such as SAP Ariba, C4C, IBP, etc., are also available – helping to further reduce the complexity of organizations' IT landscapes.
Straightforward scalable solutions
Over time, countless modifications, enhancements and additional features and customizations can cause legacy SAP implementations to become overly complex and rigid.
As S/4HANA can be easily run on-premise, in the cloud, or hybrid, organizations can use it to consolidate and increase their SAP landscape as their operational needs develop – all with next to no limits.
SAP HANA migration – Where should you begin?
When it comes to planning and executing any successful SAP HANA migration, everything depends on having a planned approach. This includes having a comprehensive understanding of the overall process and the specific SAP needs of your own organization.
Here are the necessary steps to take to ensure a successful migration:
Size the landscape correctly
Sizing your SAP HANA landscape is a critical foundational step in developing your own technical project plan. This will help ensure that you get the most benefit from your investment while also minimizing the long-term, total cost of ownership.
Over-or under-sizing the landscape can result in excess capacity and hardware; under-sizing can result in unforeseen delays and unanticipated additional expenses. Essentially, sizing the SAP HANA database is premised on the main memory. This is established by the quantity of actual data in the memory storage. Data in SAP HANA is compressed – this means the compression results must be considered within the used scenario.
You should also avoid making estimates and instead determine the memory sizing for HANA using the relevant SAP notes, SAP Quick Sizer tool, and SAP sizing reports.
Select the right platform and migration strategy
When migrating to SAP HANA, the process itself becomes much easier once you've first selected the right platform according to your specific business needs, resources, and budget.
For optimum control and minimized risks, it's generally recommended to run a SAP HANA deployment on-premise. On the other hand, for greater flexibility, scalability, and a quicker time-to-value, a deployment on the cloud could be a much better option.
Once the type of HANA deployment has been decided, it's then time to choose the most effective migration strategy, of which there are two main approaches:
Using the Greenfield approach, SAP S/4HANA is implemented 'from scratch'.
Using the Brownfield approach, the legacy SAP landscape is converted and upgraded to make it compatible with SAP S/4HANA.
If your business faces many complex technical issues with its existing SAP systems, then you may wish to proceed with a Greenfield approach and perform a selective data migration to HANA. If so, a better approach may be a fresh installation of HANA. This option offers an efficient method for companies that have standard SAP business processes and plan to move S/4HANA with a smaller data footprint.
With a Brownfield approach, the classical migration is typically the most common method for an OS/DB migration. This is essentially a heterogeneous system copy derived through classical migration tools like Migration Monitor, R3load, or SWPM.
Evaluate post migration performance
Even with great testing completed prior, there's always room for the unexpected to occur directly after the migration to HANA.
That's why, even before the migration starts, it's important to begin thinking about what kind of hyper care support will be needed in the days immediately after the migration.
This will probably be the first time that the entire business will be using the system – a test that likely couldn't have been completed during the trial migrations. This means possible unexpected performance issues.
By monitoring the SAP system throughout the initial migration and beyond, the process of managing the move and identifying possible issues before they pose a problem is simplified – this allows you to free up resources and save on time, energy and associated costs.
But how can you guarantee complete monitoring of the entire SAP HANA landscape?
One answer to this question is with Avantra…
Large and complex landscapes can make SAP migration to HANA a challenge for Basis teams.
The configuration of new SAP systems is time-consuming and complex, and many monitoring solutions do not offer the stability or consistency required to carry out a HANA migration successfully. Central monitoring is crucial in a heterogeneous SAP landscape, and Avantra provides a reliable, centralized SAP HANA monitoring solution which helps takes the pressure off teams.
Avantra's full and comprehensive tracking of the monitoring and notification history leaves no room for blind spots, and automated monitoring during new system implementation simplifies the management of SAP landscapes.
With Avantra, you can be sure that all requirements are met and that customization to your unique SAP environment is easy. Avantra also drastically reduces time-consuming configurations such as server update implementation, post-processing of system replication and new system additions to your monitoring processes.
The management of your SAP to HANA migration is simplified and secure with Avantra, so you can be sure that all systems will work before they go live.
Interested in SAP HANA Migration?
To find out more about how Avantra can help simplify your SAP HANA migration, simply get in touch for a free demo.