5 min read
What's new in Avantra 23.1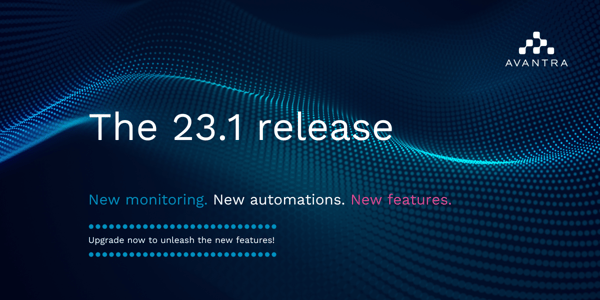 It only feels like yesterday that I was writing about the new features in Avantra 23.0, but today I'm pleased to announce that Avantra 23.1, our first feature update of Avantra 23, is ready for download. We've been working on a number of different areas that I'll try to summarize here, but I apologize for the length of this post!
For those who want a complete list of changes, check out our public release notes.
New monitoring
With 23.1 we've packed in a lot of new monitoring features to all editions of Avantra. For SAP systems, we've added new custom check types to monitor SAP workflow errors and the event queue, the ability to monitor SAP CRM BDOCs, ASE DBCOCKPIT, and improved our SAP SLT checks to monitor latency as well as or instead of record counts.
Our SAP Cloud Connector checks get a revamp too adding the much requested monitoring of certificates and memory utilization as well as making the Top Time Consumers check more configurable. For SAP Cloud Integration, we've added monitoring of JMS message queues and enhanced the existing message logs check too. Additionally, we've improved our native PostgreSQL checks to support monitoring of replication slots for distributed or hot standby scenarios.
Automation and new APIs
Our customers are constantly feeding back their experiences with our new automation engine and it's already allowing some of you to build complex automations that are freeing up resources to focus on more meaningful tasks, which is exactly what we intended! With 23.1 we're introducing some new features that our customers have requested and also improving the robustness of scenarios where something unexpected happens, for example a network outage or server reboot, and Avantra needs to recover.
Firstly, we've introduced notification users that allow, for each variant/run, a specific set of users to be notified when the workflow starts/stops, has a manual action that needs to be performed or encounters an error that needs to be corrected. This means you'll be able to monitor critical automations and respond in a timely manner.
We've also added the ability to start workflows against any system selector. Simply choose one workflow system input as a system selector and Avantra will automatically create a workflow execution for each system in that selector. This was already present for SAP systems but now has been extended to include all monitored objects. We have an exciting roadmap around this feature to improve the user experience here and your continued feedback is welcome!
Additionally, we've extended the APIs available for workflows (and JavaScript custom checks) to improve handling of SAP JCo Context's to provide stateful operations and extended our SAP Control API across SAP Java and SAP HANA System databases to allow easier access to this powerful API.
Platform features
In 23.0 we started a process to migrate credentials from the properties tab of each monitored system to their own new credentials tab, reducing the maintenance overhead for updating credentials and allowing customers to create their own "credentials purposes" to use Avantra as a credential storage system (say goodbye to that password protected spreadsheet). In 23.1, we complete this transition and all credentials are now editable from the credentials tab and accessible through JavaScript based custom checks and automation steps.
Our JavaScript based output channels get some new functionality too in 23.1 with the addition of credential handling - either reading credentials from the system that triggered the notification or from the Avantra general credentials for integrations. This allows more robust scripts to be created. In addition, we've introduced a new JavaScript API to interact with ServiceNow configurations within Avantra. This allows you to read URL and credential information and use it in a web request to customize the ticket creation/update process with your own logic. Check out this example (and sample code) in our support documentation.
For our VMware integration in Avantra 23.1 we've added support for using an agent to proxy requests to your VMware infrastructure. This is incredibly useful if your VMware is located in a different datacenter and you're missing out on our synchronization and start/stop actions because of firewall or other security restrictions. Now an agent can perform these actions on behalf of the Avantra server.
Finally, in our new UI project, we've improved the experience of our landscape browser with a new view for showing check detail information without needing to delve into the classic UI. Here you can see more information on why a check turned critical and how to solve it. We've also made several improvements to our dashboard functionality to allow you to customize the experience with custom backgrounds and display settings. And also we've added a couple of new dashlets, a quick link dashlet to allow users to navigate elsewhere and an automation dashlet to allow users to start workflows directly from a dashboard.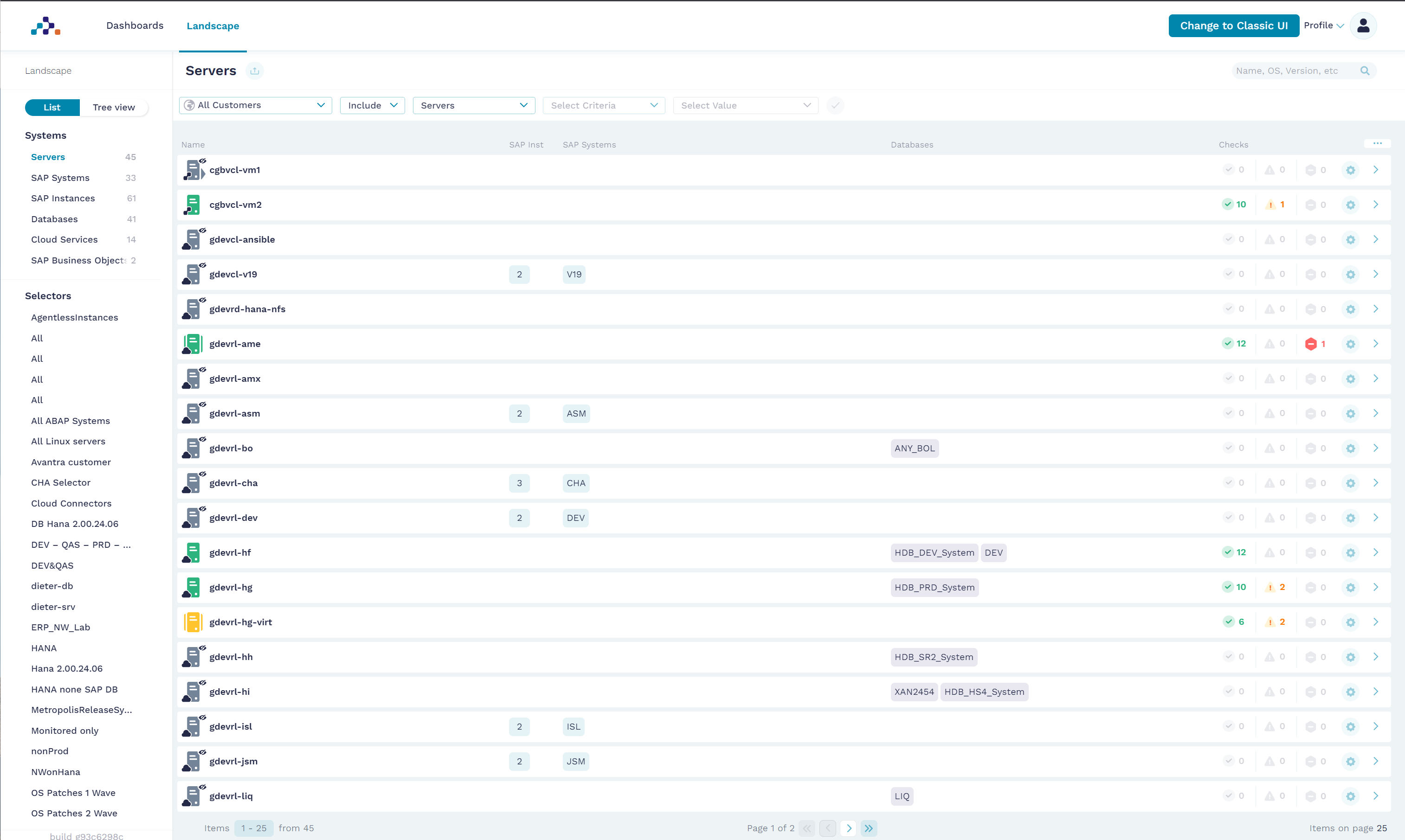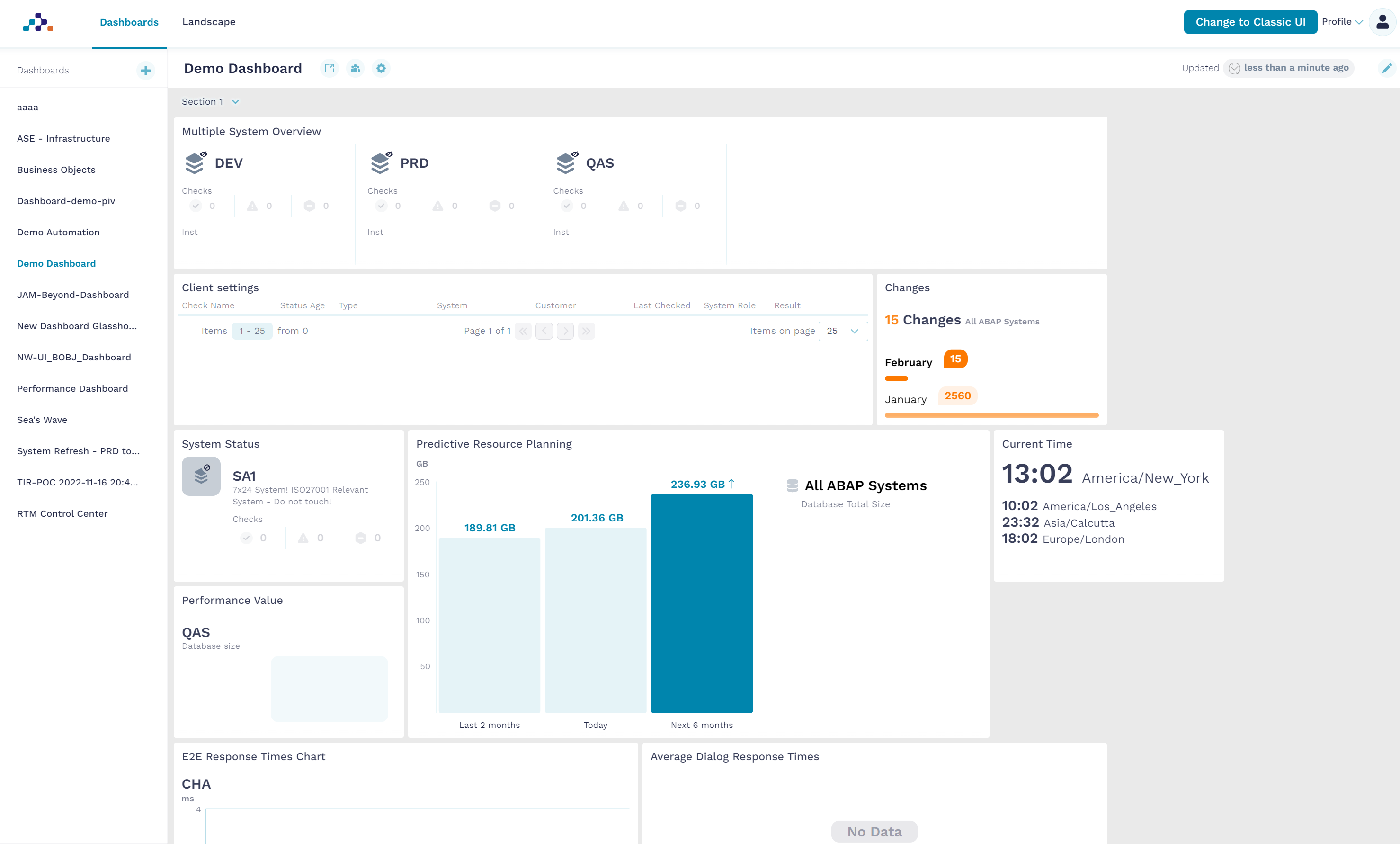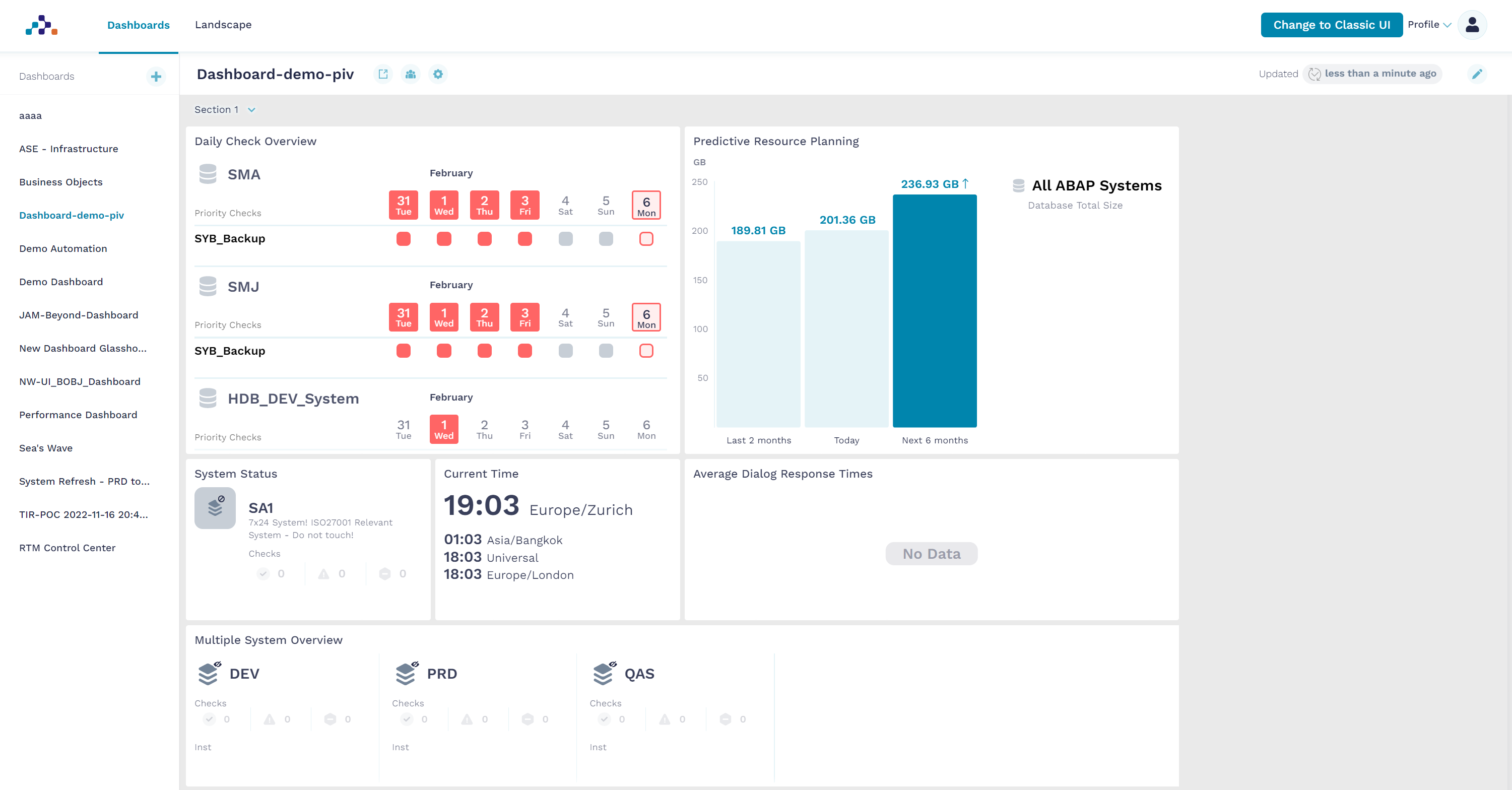 Upgrade notes
While we try to make each Avantra upgrade as seamless as possible, there are a few things in 23.1 that need to be called out and depending on how you've configured Avantra, may need to be changed when upgrading to 23.1:
Secure Cookies have been enabled by default to increase the security around session handling. For most customers, this change will have no impact and you can benefit from increased security with 23.1. However, if you utilize reverse proxies (the hostname configured in Avantra isn't the hostname users are using or something else here is non-standard), you may experience a login loop after upgrade and will need to configure this setting. This secure cookies solution article provides more guidance.
For Avantra managed passwords, we have a number of new changes. In 23.0 we increased the minimum length of a password to 12 characters based on the advice of our security advisors, but this caused a few issues for some customers and now, since 23.0.3, the default is 12 characters but can be set back to 8 to support legacy integrations with other systems. We recommend keeping this setting at 12 characters though for increased security.
Additionally, to protect against password reuse and dictionary attacks, all Avantra managed passwords are now checked against a dictionary of commonly used passwords to prevent passwords such as "12345678" etc. If a user has used one of these passwords, or has a password shorter than the new length requirements, they will be forced to change it when logging in again.
Finally, we've changed the way that the monitoring parameter `AgentListenerPort` works in 23.1. Previously it would change the port the server would attempt to connect to on the agent and also send configuration to the agent to change this port. Now, after 23.1, the `AgentListenerPort` will not change the port the agent listens on. This must be set manually when an agent is installed or changed directly in the agent's `agent.cfg` file. If you make use of the AgentListenerPort monitoring parameter, you must make sure that the `agent.cfg` file reflects this before updating.
Conclusion
We hope that you like our latest version of Avantra. From our new built in monitoring checks to automation features and platform features, I think there is something new and useful for every customer.
A complete list of changes can be found in the 23.1 release notes on our documentation website.
At Avantra, we are delighted when our customers tell us about their experiences. Let us know what you are looking for in Avantra by creating an idea at ideas.avantra.com, email us at support@avantra.com or speak to your customer success manager.