4 min read
What's new in Avantra 23.2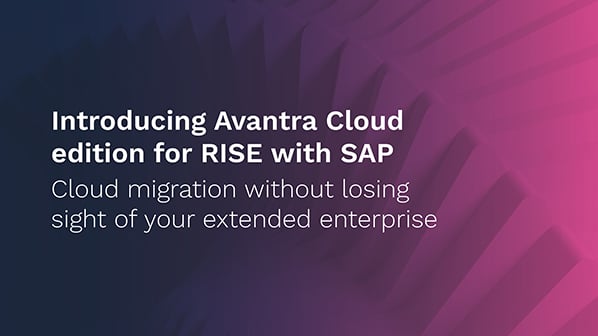 It's my pleasure to announce that the newest version of Avantra, 23.2, is now available for download through our customer hub. In this release we've focussed on bringing performance enhancements and usability improvements as well as enhancing our platform extensibility experience and bringing new automation templates to remove some of the mundane tasks that we know SAP operations teams get stuck doing rather than spending time on the more important stuff.
Let's dive deeper into the new features. For a complete list of changes, check out our public release notes.
Under the hood
We've spent a lot of time on this release tuning the performance of key areas of Avantra to ensure our customers can handle monitoring more systems, running more automations and sending more notifications. We've enhanced how we handle sending configuration to agents to remove some of the processing to allow configuration changes to be sent faster and to more systems.

We've also started introducing a new design to how notification channels are used. Nothing changes in the UI, but Avantra in the background can handle more efficiently slower output channel types, or when the external system takes a long time to process a new ticket.
We're also continuing our project to modernize some of the core features of Avantra so that in the future we can support newer technologies. In this release, we address checks and custom check types that involve operating system, network, file system and registry access. This change should be transparent to our users but if you do notice something strange after the update, please let us know by reaching out through our support channels.
Improved developer experience
Avantra as a platform for monitoring and automation is very powerful. Of course we have built in checks and automations for commonly used functions but it's the capability to tailor these to your own requirements, and even build your own, that we believe makes Avantra so useful for SAP Operations and making this easier to do is always a goal in each release.

In Avantra 23.2 we've rolled out our new code editor, based on the same editor used in Microsoft's Visual Studio Code, to JavaScript custom checks (RUN_JS), JavaScript automation steps and JavaScript output channels. In this editor we've built in our API documentation and code completion so our users can see the different functions and possibilities available and to write checks and automations faster.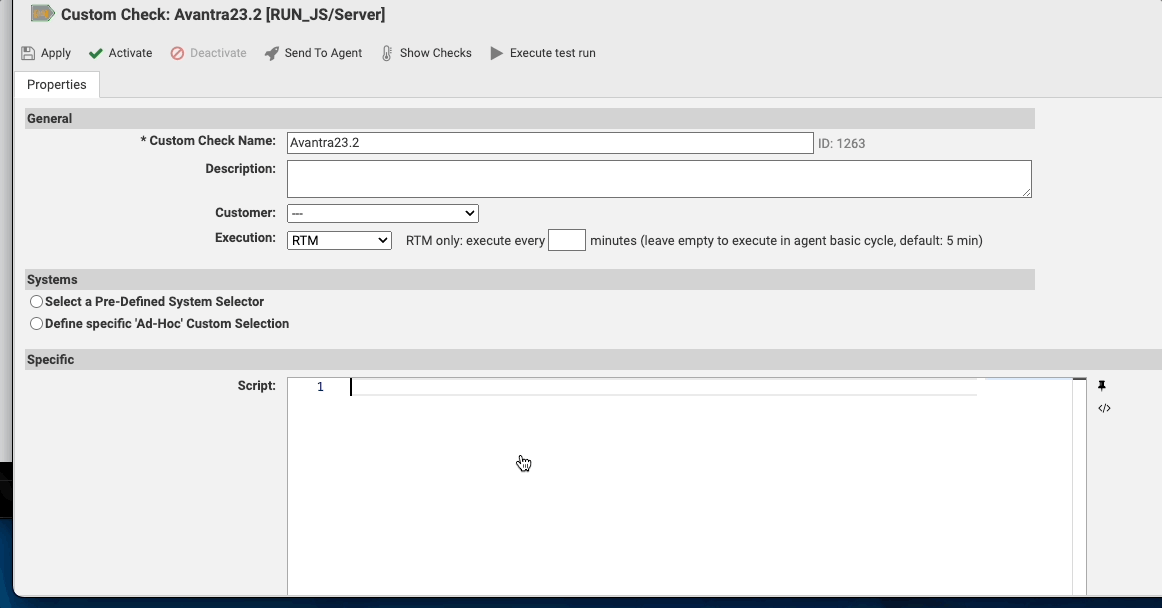 And for JavaScript based custom checks (RUN_JS) we've also included a library of sample checks that can simply be pasted into the editor to give you an idea of what's possible and a head start in building it. We love these features and hope you do too!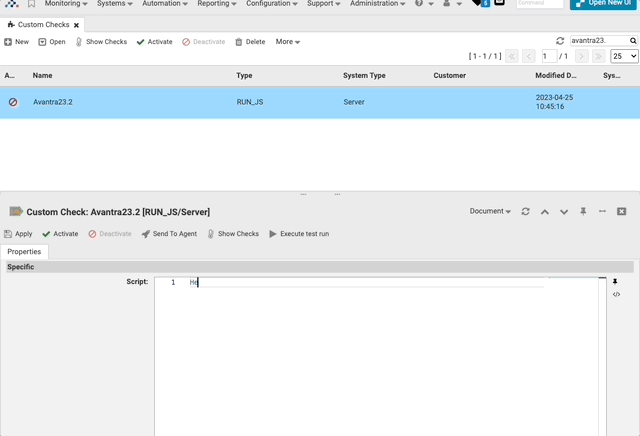 Automation features
We have quite a few new features and changes for our automation engine this release, from performance to usability and authorization.
Starting with performance, In Avantra 23.1 we introduced a number of new features to allow customers to parallelize workflows based on a system selector. We had some great feedback on these features and we're already working on some future improvements for later releases. With 23.2 we've focussed on what happens when the chosen system selector is large and you want to execute the workflow across many systems. We've optimized the performance and added feedback throughout this process.
Avantra now asks for confirmation about the choices you made in the input fields, and details the system selector contents so you can make sure you have the right one selected. We've then optimized the performance of the log output display to make sure you can always see what is happening (without needing to manual refresh as much) and enabled filtering and searching of executions so you can find the execution you need.
Starting a workflow now also requires you to select a customer that is tied to the execution. The customer selected controls a couple of things, who can see the execution (based on permissions) after it's executed and also which systems can take part in an execution (either manually defined or as a subset of a system selector). This change mirrors the behavior our customers are used to in Custom Checks, Monitored Objects and other areas across Avantra.
We've also made some other minor improvements to how workflows are started. We've provided searchable input fields, adapted the input UI to make the most of the screen and provided an option to reconfigure the layout of the screen to build JavaScript steps as well as many other minor UX changes.
Automation templates
And for our Avantra Enterprise Edition customers, as well as the release of Avantra 23.2, we are releasing a number of new automation templates to simplify the lives of SAP Operations day to day tasks. We know that you often get requests to change the SAP client and global change options, to reset a password or unlock a user and now these are all templates that can be automated in your SAP systems!!
We know that, depending on the system/customer/landscape, you'll have radically different approaches to securing these and with Avantra you can implement them all. From providing a dashboard to allow your users to self-service their client unlock / user unlock to calling our APIs from a ServiceNow ticket after the required approvals have been obtained, this choice is up to you.
We're also releasing our SAP ABAP Certificate renewal workflow in a pilot to a select number of customers. This workflow template can renew certificates, found in SAP's STRUST transaction, to ensure that communication to/from this system is not lost. And once this is automated, it makes your security team really happy as they can reduce the lifetime of the certificates generated to better secure the systems in question. If you'd like more information on this pilot, please reach out to your support/sales contact.
Conclusion
We hope that you like our latest version of Avantra. We've certainly been loving the new development features and the new capabilities in our automation templates. What's your favorite thing here?
A complete list of changes can be found in the 23.2 release notes on our documentation website.
At Avantra, we are delighted when our customers tell us about their experiences. Let us know what you are looking for in Avantra by creating an idea at ideas.avantra.com, email us at support@avantra.com or speak to your customer success manager.