SAP RISE is a new, cloud-based solution that helps businesses run their SAP software in the cloud. It provides a simple, cost-effective way to get started with SAP in the cloud, and includes all the necessary tools and services to run SAP applications in the cloud.
SAP Rise presented itself as a way to shift towards an intelligent enterprise just as this month marked the sixth anniversary of the launch of SAP S/4HANA. Around 11% of SAP customers have upgraded to S/4HANA which represents a 7- or 8-figure investment for many customers. Since SAP extended support for their previous version, SAP Business Suite 7, until 2030, many customers have delayed deployment.
The delay is a problem for customers and SAP because SAP has not been backporting innovation back into the Business Suite for the last four years. The longer it takes to upgrade, the harder it becomes for customers, and the bigger the chance they invest in alternate solutions.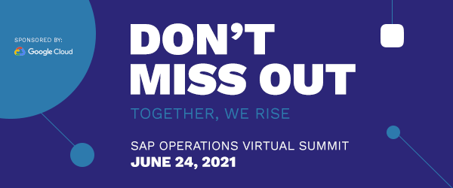 This blog contains preliminary information, and I will update it as information becomes available.

Update - February 25th, 2021: I've now updated this blog to include information gleaned from the market over the last 30 days.
What is the history of RISE with SAP?
In 2013, SAP announced HANA Enterprise Cloud as a solution to the problems deploying HANA. At that time, buying SAP HANA was challenging because it required expensive specialist hardware and installation. Moreover, none of the top-tier hosting or cloud providers allowed for SAP HANA as an option.
I remember meeting with then-CEO Jim Hagemann-Snabe in 2013 and commenting that if he created HANA Enterprise Cloud to galvanize the market to build HANA-based clouds, it was a pretty smart move. He smiled.
Fast-forwarding to 2020, all the major vendors, including hyperscalers Microsoft, Amazon, and Google, now provide HANA-based solutions via a marketplace. As a result, hyperscalers and other hosting providers provision most new HANA Enterprise Cloud contracts, and SAP is now effectively exiting the Infrastructure as a Service (IaaS) market.


What is the problem today?
Today's problem is significantly more complicated than it was back in 2013. At that time, the problem was just an infrastructure problem.
Today's problem is a people, process, and technology problem. All things being equal, customers would like to move to S/4HANA, but the number of skilled consultants in the market is low, the process to upgrade to S/4HANA is different for every customer, and there is no software automation stack.
SAP has the additional problem that it has lost control of the customer conversation. Hyperscalers drive the move to the cloud, and systems integrators are driving business process optimization and consulting.
To deal with this, SAP created an internal project called MOVE, which was intended to upgrade customers to their latest SAP S/4HANA software.
What is SAP RISE?
Today, SAP has launched RISE with SAP, formerly SAP Cloud Nine and affectionately SAP RISE. RISE does not officially stand for anything, but I like to call it RISE In SAP Environments, which is a nice recursive backronym.
RISE with SAP is not a product, it is a go to market (GTM) motion that includes three main pillars: business process simplification/transformation, the move to S/4HANA and infrastructure run operations.
A RISE with SAP contract includes software, Infrastructure as a Service (IaaS) and some Cloud Managed Services (CMS). It does not include some Cloud Managed Services or Application Managed Services, which the customer must provide themselves or contract to a Managed Services Provider.
What are the components of RISE with SAP?
Business Process Intelligence. This offering is supported by the Business Process Management software acquired from Signavio, and looks to improve business processes and simplify ERP by reverting to standard. This increases business agility and enables the technical migration to S/4HANA.
Technical Migration. This is a move to the S/4HANA Cloud including SAP and partner services to remove modification and harmonize the data layer. Interestingly, RISE with SAP does not require a move to S/4HANA.
Infrastructure & Operations. SAP claims a 20% reduction in TCO by running RISE with SAP. This is a financial engineering play that converts Capex into Opex and eliminates shelfware.


Which IaaS vendors will be allowed for RISE with SAP?
Microsoft Azure, Amazon, IBM, Alibaba, and Google are launch partners, with Satya Nadalla speaking from Microsoft about the partnership. It seems likely that other vendors, including other private cloud providers, will be able to be RISE IaaS partners. The SAP HANA Enterprise Cloud is available as an option to customers if required, but is not the preferred solution.
How do I know if RISE with SAP is right for me?
Our view is that there are two types of "perfect" RISE with SAP customers.
Net new customers. Customers looking to implement S/4HANA for the first time, should definitely evaluate the SAP S/4HANA Public Cloud, Single Tenant Edition (STE), and RISE with SAP.
The RISE with SAP Triangle. There are three factors to this for existing SAP customers.
First is the level of engagement with a hyperscaler. If you have a huge enterprise spend with a hyperscaler then RISE may not be right for you, because you wouldn't want to put this negotiated discount through SAP. If you do not, or are multi-cloud and spread the spend, then RISE with SAP is interesting. Mid-sized enterprises are therefore more likely to be a great fit.
Second is the version of SAP you are running. If you are running the latest version of S/4HANA on Google Cloud Platform then RISE with SAP will be incremental for your business. If on the other hand you are on SAP ECC 6.0 EhP4, you can bundle in 15 years of innovation into the RISE contract.
Lastly is the amount of shelfware you have. The more the better: you can use the shelfware as a commercial lever to reduce your spend.
In short - a mid-sized enterprise stuck on ECC 6.0 with a pile of shelfware, then RISE with SAP is a slam dunk. If you form part of SAP's Strategic Customer Program or Platinum Account program, running S/4HANA on Azure with a recently renegotiated contract, it's much more nuanced.
What if I want to buy from a hyperscaler directly?
If you want to keep a single contract with a hyperscaler, you can continue to do so, but not via a RISE with SAP Contract.


What if I want to combine Cloud and Application Managed Services?
If you want to keep a single contract with your chosen systems integrator, you can continue to do so, but not via RISE with SAP Contract.
RISE with SAP does bring some additional complexity, because it means you must have two partners - SAP for IaaS and some CMS, and a services partner for some CMS and AMS. For instance, SAP takes care of Client 000 SAP Basis work, but requires the customer or partner to take care of productive clients.


Why would I want RISE with SAP?
RISE with SAP is quite advantageous if you are looking for a single contract and set of SLAs.
The other significant advantage is that SAP is likely willing to roll shelfware into a RISE with SAP contract. In some cases, it may be possible to reduce waste in contracts significantly.
The 22% Enterprise Support maintenance costs are a burden for yet other customers, and it suits them to push Capex into Opex.


What are the disadvantages of SAP Rise?
Some large customers prefer to contract all their hosting and services requirements directly to vendors to perform contract consolidations. In some cases, those contracts are 10x the size of the SAP contract, and so customers could be giving away leverage with those vendors by consolidating part of their requirements on SAP paper.
There is the question of whether vendor lock-in through the full stack is an issue for customers - presently they can move around contracts as they move to different providers. This may be partially mitigated by SAP allowing changes to the underlying vendors.
Another disadvantage is that it may be very difficult to have a multi-cloud strategy which allows you to optimize costs based on available infrastructure options.
It also seems likely that RISE with SAP will be more expensive than tendering the services separately, because SAP will need to make a margin on services and cloud provided by other vendors.
That said, SAP is positioning RISE as a cost reduction play with promises of a 20% reduction in TCO. As a customer, you should consider achieving this 20% reduction as table stakes to move forward with RISE.
What is the competition to RISE with SAP?
Almost every systems integrator has a competitive offering to RISE with SAP and most have combined Application and Cloud managed services into one offering, and offer this via a hyperscaler. Some have very sophisticated AIOps platforms which automate running SAP.
It seems likely that the Systems Integrator landscape will bifurcate, with some integrators offering competing services and others being RISE with SAP partners. It's also likely that some of the bigger Systems Integrators will do both, and even compete with themselves.


How does RISE with SAP help with the move to S/4HANA?
The story for this is still under construction, but SAP plans to use the acquisition of Business Process Management company Signavio as a means to accelerate the move to S/4HANA by implementing process simplification and revert to standard.
In my view there are still missing parts of the equation and SAP needs to work hard to take friction out of the move to SAP S/4HANA with tool automation and automated custom code remediation.
Is RISE with SAP just HANA Enterprise Cloud 2.0?
Yes and no. RISE with SAP is effectively a replacement for the HANA Enterprise Cloud, and will be SAP's Infrastructure as a Service offering going forwards.
That said, it's clear that the intention for RISE with SAP is to provide capabilities beyond the HANA Enterprise Cloud: for a start, it is possible to move any SAP application on any version, and then plan an upgrade to SAP S/4HANA. A HANA system is not required.
In addition, there are in theory options like existing SAP S/4HANA customers or even SAP S/4HANA on HEC customers moving to RISE. As noted elsewhere, these scenarios may be more difficult to realize TCO benefits.
How is RISE with SAP Licensed?
SAP tends to keep its licensed models closed for legal reasons, but we can expect a few things.
First, SAP is looking to single-source RISE contracts and pass-through revenue to other vendors to control the customer conversation.
Second, RISE contracts are subscription-based, and SAP is no doubt looking to categorize RISE contracts as Annual Recurring Revenue, which will please investors and analysts.
Lastly, SAP executive Bob Stutz has been talking publicly about consumption-based models, and no doubt customers will look to hold SAP to account on this.


Final Thoughts
It will be interesting to see how RISE with SAP plays out. I find it reminiscent of the HANA Enterprise Cloud launch in 2013, because SAP needs to cause the market to reduce the cost of operating SAP systems and get customers more quickly to SAP S/4HANA.
It's also reminiscent of the SAP Leonardo launch in 2017, because RISE with SAP is not really a product, it's a Go To Market offering.
That said, for every day that a customer delays moving to S/4HANA, there is a chance that they take a different direction - either different business investments, or worse, moving a component of the SAP Business Suite into a competitor's cloud.
In the grander scheme of things, it seems likely that RISE with SAP will galvanize the market to be a more cost-effective move to SAP S/4HANA. What is less clear to me is how many of SAP's key customers will want to consolidate all their SAP spend under SAP itself.
---