11 min read
Adapting to Change: The Future of SAP Operations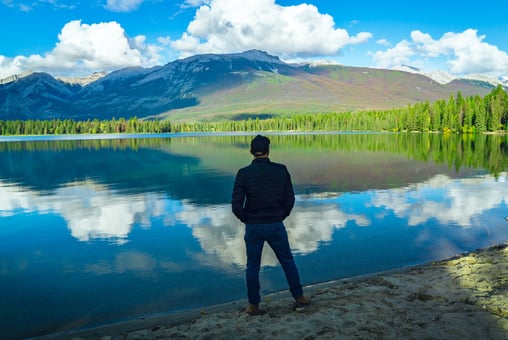 SAPInsider recently hosted a webinar where John Appleby, CEO of Avantra, joined Matthew Lobaugh from AWS, Chance Veasey from Velocity, and Marcello Donato from Kayser-Roth Corporation.
Matthew is part of the SAP Beyond Infrastructure Team at AWS, Chance is a Senior VP of the SAP Line of Business at Velocity Technology Solutions, and Marcello is the manager of SAP technology at Kayser-Roth Corporation, an apparel manufacturer based out of Greensboro, North Carolina. Velocity is a leader in enterprise business applications services and offer fully managed services for customers running complex applications, like SAP on the Cloud.
The panel discussed the future of SAP operations, building resilience into your SAP landscape, moving processes to the cloud, the role of managed service providers in the future and more.
Read the highlights of the discussion below moderated by Tom Kelly from Avantra. If you prefer to watch the webinar instead, view the full video of the conversation here.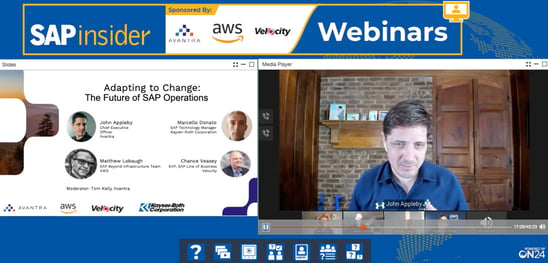 Highlights of the Future of SAP:


Tom Kelly: Having implemented SAP, what would the needs and priorities be for the future of the ongoing management of SAP at Kayser-Roth?
Marcello Donato (Kayser-Roth): One of our main priorities at that time, which still hold valid, is the simplification of the Kayser-Roth system landscape.
Prior to 2015, our system landscape relied on several core mainframe-based applications. However, in 2015 we started what I like to call, a digital transformation journey. With the help of Velocity Technology Solutions, we moved these mainframe-based applications into an integrated ERP SAP-centric landscape.
The decision was challenging for the company, even from a cultural standpoint, as we had to move multiple mainframe-based applications into a Class A ERP system like SAP. However, over the years and with the help of Velocity, these legacy systems have been replaced by SAP to simplify our system landscape. We were able to manufacture and ship to our customers without any major issues or obstacles even during the go-live phase.
Another priority for us is to lower costs. With our SAP system landscape in place, we don't have to directly manage and maintain the data center anymore. Being a mid-sized company, our SAP system landscape is hosted by Velocity and is made up of the ERP system and SAPBI (the business intelligence system) together with the SAP EAI system PI/PO. Our development and test systems are hosted by SAP in AWS. By the end of the year, we hope to complete the process of transitioning our production landscape into AWS as well. This will greatly improve our operations and will benefit the company.
We are continuously trying to simplify, automate, and standardize all the business processes that we have in a bid to achieve our priorities. Velocity's support has been significant here as we have been able to map out business processes together with their business process steps. With the training sessions they provided, we standardized and automated business processes that were not efficient in the past.
Coming to the present, speed has played a key role in our success. Especially this year, when we had to adapt quickly in order to face multiple challenges. As an expanding business that is now managing both B2C and B2B marketplaces, we manage several different dropship programs with our major department store accounts. Without being agile, we wouldn't have been able to adapt to these new challenges and opportunities.
Velocity has helped us adapt in this challenging time by relaying their expertise and the structure needed to support our business processes. I am delighted that we are being able to steer successfully through this pandemic.
Tom Kelly: Pivoting on the topic of the current Covid situation and the subsequent business environment we will have to adapt to now and in the future, why is the way that organizations run their SAP application landscapes critical to build resiliency into the business?
Chance Veasey (Velocity): Marcello mentioned a great point about starting the digital transformation and transitioning their legacy mainframes well ahead of Covid.
Digital transformation is key and organizations should look at accelerating their digital transformation programs at this time. As organizations were forced to shift to remote working, gaps in IT infrastructure, workforce planning and digital upskilling were exposed. Enterprise apps are at a confluence of digital and business process transformation because, at this point, it is not just the IT infrastructure that needs to be resilient. The interoperability between business processes and systems, having redundancy in place and a base of partners that can provide skillsets when in need, are all equally important. The current scenario has reminded us all that for organizations to be successful, they have to stay agile and quickly adapt, while also being resilient.
When standardizing the business processes, reducing costs and improving efficiency will become priorities for everyone. For this approach to work at scale, the ERP system and apps like SAP have to form a significant portion of the overall plan. Today, the economic environment makes it difficult for organizations to imagine transformation, cost savings and adding resiliency all at once. However, the combination of AWS and a managed service provider can help you create the cost savings that will subsequently allow you to fund transformational projects.
John Appleby (Avantra): I think we are starting to see a shift in the way customers think now. Over the last 10 years, customers were complacent over the cost and reliability of their SAP environments. However, now they are ready to invest in specific initiatives that will help the business reduce costs and improve its efficiency and agility. These are great reasons for a business to explore moving to the cloud. They have also started to look closely at the benefits of these initiatives and how it can help their business in adversities such as the pandemic.
Digital transformation is no longer a nonsensical moniker to them. It has become a requirement to ensure that their business still works in the future should a Covid-like situation arise again. It's a phenomenally exciting time.
Matthew Lobaugh (AWS): Firstly, I commend Marcello and the Kayser-Roth team on their efforts to transform their system landscape. Not having to directly manage the data center and the infrastructure lets you spend time to focus on innovating your core business. A digital enterprise that does not keep you on your toes for trivial issues is a trend that we are seeing in the SAP team at AWS too, where we work with hundreds of SAP customers that are moving to digital enterprises.
I second what John and Chance said about cost pressure. We are definitely seeing a trend in businesses wanting to change to services that are either managed by others or by themselves, giving them more time to spend on things that add value to the business. People also want to work with partners who have done it before to help them make the process of transforming to digital easier for them. Kayser-Roth's example of working with Velocity is a commendable case here.
Tom Kelly: What role does automation play already today and what role will AIOps play in the future for these kind of applications?
Matthew Lobaugh (AWS): These days customers are trying to better automate their SAP environments either with AWS native services or with the help of proven partners like, Avantra, or with the VCAMP System that Velocity has.
Automation drives costs down and increases performance and resiliency against all the political and economic disruption that we deal with. The way we are headed today, machine learning is not going to replace humans. Instead, they are going to complement us with their capabilities.
In the enterprise space, we see over 80% of the customers opting for partners like Avantra or Velocity to help them automate their SAP environments rather than become AWS experts and build on their own.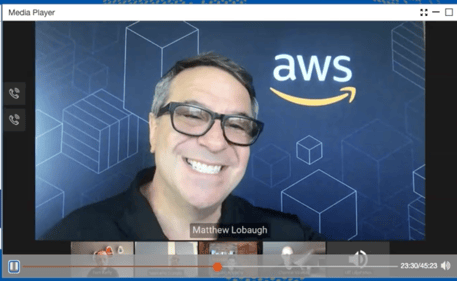 Chance Veasey (Velocity): To add to what Matthew said, the tools from AWS, Avantra and Velocity provide transparency in how we manage the service. We help our customers go through a journey of adopting more of DevOps than they want to on their own.
The customer can either completely outsource everything or do it through the automation platform that allows them to adopt a DevOps mindset and approach to be more efficient and thereby provide better quality to their business users. At the end of the day, our focus is on the business outcome and we don't implement AI and machine learning just for the sake of it. We do it in ways that help our customers serve their business users and get better at what they do.
Tom Kelly: How does a managed service provider shift the role of a business? What does becoming a self-healing enterprise mean to an organization?
John Appleby (Avantra): From when we used to design storage architectures for SAP systems to now, where we have people with Cloud DevOps skills, we have come a long way in 15 years. In the next 10 years, I think there will be a fundamental shift in the way automation and robots help humans.
Back in the day, I faced an issue at a large enterprise where the middleware was down for two weeks with nobody aware of it. In contrast now, a bot will be able to proactively check for issues every now and then and act on it or send a notification. This is more than robots replacing humans. It's about using the right methodology for the right things.
In the years to come, I think automation of Cloud deployments will also see the same shift as what happened within the cloud in the context of containerization. This will allow things like auto-scaling which helps the other side of operations.
Chance Veasey (Velocity): I agree, auto-scaling is definitely an exciting direction to be going in. Another remarkable area is going to be the use of analytics tools around the applications to predict issues.
By using analytics to identify how our customers use the SAP applications, we can drive automation that prevents issues from ever occurring. For example, towards the month-end, we usually see a spike of transactions. Knowing this, we will be able to provision additional resources before the spike even happens. This way our toolsets react to a set of conditions to add more space and scale.
Marcello Donato (Kayser-Roth): One of the main benefits of having these platforms and tools is that they ensure business continuity. The more automation we have, the more proactive we will be in anticipating issues before they even occur. This way, we can ensure that there is no disruption to our business processes.
Tom Kelly: How does a service provider like Velocity have to change its business to be successful in a world of automation and hybrid cloud environments?
Chance Veasey (Velocity): With increasing technical complexity, expectations of the end-users have been rising too. It is a requisite now for managed services providers to adapt and change. One of the key takeaways from this pandemic is that resistance to change has evaporated within businesses. Organizations that are truly focused on business outcomes have started to implement this already. However, with the technology and tool sets that we have and continue to adapt, we need to stay aligned with what the business needs.
With this in mind, we introduce design thinking to our customers to help them drive outcomes that they were unable to before. At the end of the day, managed service providers need to evolve to provide more than just technical solutions to drive business outcome.
Tom Kelly: Introducing automation in operations essentially gives you more resources and provides a platform for innovation. How will automation and orientating managed services contribute to getting a platform for innovation and to best manage the challenging and dynamic environment we find ourselves in?
Matthew Lobaugh (AWS): When people think about innovating, instead of launching a new project, they always wonder if they have done enough with their existing data.
They shy away from initiating large-scale projects to innovate due to the economic circumstances. However, there is a lot of opportunity for people to get more from the investments that they have by focusing on the data that they have accumulated through these systems.
These days every SAP engagement need not be stretched over months. People are experimenting with proven partners like Velocity and Avantra, and AWS as a platform for innovation to find and release new services within a few weeks. This method lowers costs and frees up time to let you innovate, helping your business and customers get through this difficult time. Going forward, I think that is going to be the trend too.
John Appleby (Avantra): Another big factor I would like to add is the problem of human capital in the United States. We don't have enough people in the country like before for all the innovation projects that we have planned.
Investing in cloud platform software processes to automate a business' usual activities will reduce the number of people required for the job. We can implicitly increase the amount of innovation capacity there is, because we were completely limited by the number of people in the market before. The people that we have now are interested in learning the new tools of the trade like machine learning, artificial intelligence, and containerization. Automation is all about freeing people up to innovate without having them do repetitive activities.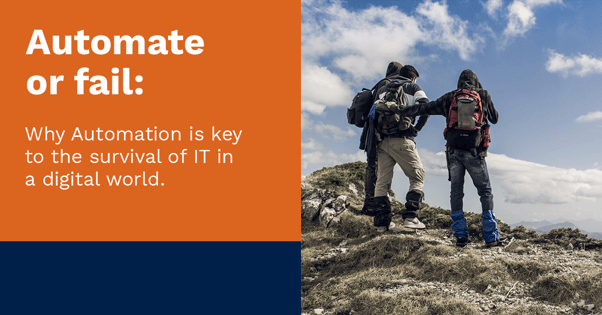 Tom Kelly: Taking questions from the audience, my first question is to you, Marcello. Other than speed and agility, what did your customers, both internal and external stakeholders, gain from the move to SAP on AWS? What excited your CEO and CFO about that move?
Marcello Donato (Kayser-Roth): Talking about this time period, the partnership with Velocity was definitely an advantage throughout the pandemic as we did not face any disruption. The agility that AWS as a cloud platform provided us also helped with that.
John Appleby (Avantra): Were you at an inflection point when your mainframe hardware depreciated and what do you think drove it in the first place? Was it deciding to pay extended support, buying new hardware, or moving to the cloud?
Marcello Donato (Kayser-Roth): We did not want to expand the mainframe landscape. We are trying to transition all of it onto SAP and we are cutting costs on the mainframe side as we do so. The mainframe costs prior to the SAP transition were significantly high. The few mainframe-based applications that we still have running to manage our MRP portion, are also not cost-effective. So, we certainly want to move all our apps to SAP soon and bid goodbye to the mainframe.
John Appleby (Avantra): Are you planning on moving custom-built MRP apps onto SAP standard functionality for MRP?
Marcello Donato (Kayser-Roth): Sometimes we have to move, and at other times we have to redesign the apps. We are working on a more simplified and automated process at Kayser-Roth. Earlier with the mainframe, everything worked on a schedule and not in real-time. Today though, speed plays a big role in our success and having a mainframe will not work for that cause. We will need to simplify the processes and redesign what we need to, and so it's safe to say that the mainframe will not be a part of our company in the future.