4 min read
What is AIOps for SAP?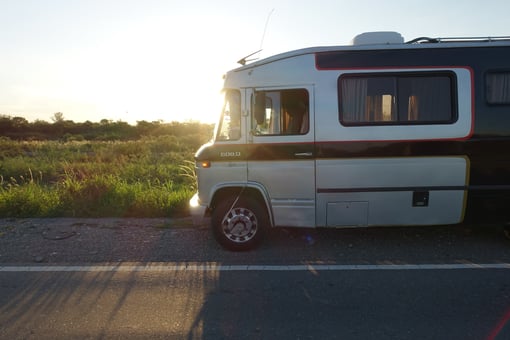 What is AIOps for SAP? John Appleby dives into AIOps, how issues are resolved and avoided with an intelligent operations platform, and the benefits AIOps provide for overall business operations.
Last week I had a staycation in an RV. It was beautiful to see 10 of the US states during Spring, but what you might not know about RVs is their incredible complexity.
With a car, you have a standard build, and then it is repeated thousands of times. There are a handful of systems, like Radio, Air Conditioning, Heating, which are, these days, usually integrated into a single computer on the dashboard. When something goes wrong, it's typically easy to understand what to do.
The underpinning of most Class A Motorhomes is a Daimler Freightliner chassis, which is relatively standard and includes the chassis, axles, wheels, drivetrain, and engine. From there, each builder will add hundreds of custom systems on top. In the end, no two are the same.
Your Mac or iPhone is like the car - a standard build produced many times. The RV is like SAP: SAP systems contain hundreds of customized applications based on the NetWeaver platform, all working together (hopefully) in harmony.
How do you know they are working in harmony?
In an RV, you know everything is OK by continually applying manual checks. An RV will probably let you drive off with the slides and awnings still out, and there are a handful of systems that integrate in some minor way, for example, the stabilizer system will not engage if the parking brake is off.
Then you periodically take it into the shop for a more detailed assessment, where experts check systems and levels and make repairs as necessary.
With SAP, it's effectively the same. SAP Operations teams manually check that interfaces, systems, processes are running, and the business can continue to function. Then there are periodic audits, often using a tool called Earlywatch, which identifies issues for resolution.


There are four issues with this approach:
There are very few manual checks.
RV Owners and IT Operations teams can necessarily only check a small number of metrics every day. When I close the slide-outs, I verify that the lock engaged, but I won't review it until the next time I use them.
Likewise, with SAP systems, IT Operations teams usually do what's called a "daily check" where a checklist is completed. What if something goes wrong in the meantime?
Highly experienced resources are required.
In the SAP world, expensive and highly experienced resources complete this work. They spend most of their time identifying issues and a small amount resolving what they find.
There are tens - perhaps hundreds - of thousands of SAP Operations professionals just checking that systems are running.
How is the work prioritized?
When a daily check identifies an issue, the SAP Operations professional resolves it or schedules it for resolution. Unfortunately, it isn't easy to identify which problem is the highest priority. Besides, SAP Operations teams spend an excessive amount of time identifying issues in the first place.
Composite issues are incredibly challenging.
Composite issues happen when multiple systems have a failure at the same time, interact, and cause a bigger problem.
Occam's Razor suggests that the simplest solution is usually the best, but when you have hundreds of systems interacting, there is often no simple solution.
Composite issues often take days or weeks to diagnose (called a root cause analysis) and solve.
What is AIOps for SAP?
AIOps looks to resolve the above issues with an intelligent operations platform.
Information is collected and stored in real-time, completing thousands of checks every minute. It costs nothing to check the slider is still locked when a computer is doing it for you. Massive amounts of data are stored for future processing.
Data from all of these checks are automatically correlated to identify anomalies in the environment; composite issues can be easily spotted with anomaly analysis.
Issues are identified and correlated with previous solutions, then prioritized and handed off to SAP Operations for resolution.
Automation allows predefined resolutions to be scheduled via a change management process, which is especially useful for minor updates or scheduled downtime.
What are the benefits of AIOps for SAP?
SAP Operations cost can be reduced by 50-75% with AIOps: not only is all the manual work eliminated, but the need to do pricey root cause analysis is reduced because problems are identified ahead of time.
Business Operations are significantly improved because there are fewer outages. Problems are resolved before they impact the business, and are prioritized according to business impact.
SAP Operations resources are much more effectively deployed because they are focused on issue resolution, and lead a better quality of life because they spend less time in the middle of the night, completing manual steps.
Key individuals are less of a risk, because issue resolution data is all centrally located, rather than in the head of a few essential resources. Many SAP Operations professionals are approaching retirement age, and much knowledge will otherwise be lost in the next ten years.
Photo by John Appleby