Operational transparency is a paradigm around how Managed Service Providers (MSPs) disclose their services and service levels to their customers. It may sound like an odd concept in times where a bunch of large cloud providers sell compute power as a commodity. But in SAP operations in particular, it is an absolute necessity.
Operational transparency and public cloud providers
These days, if you run your workloads in one of the major public clouds, you don't know exactly where the servers are located running these workloads. Nor do you have the faintest idea who the people are involved in doing so. If at all. And for a certain part of IT infrastructure you simply don't have to care about these details.
Just like you don't know exactly how the power traverses the grid - you don't care as long as it comes straight to the socket. And like power, basic computing and networking have become a commodity. AWS, Google Cloud, Azure, and the other major players do their part of the shared responsibility model, precisely so that you don't have to care. They do a pretty good job within their own capability but there's still a lot that goes on outside of this.
Earning customer trust
Flashback. Looking back a couple of years ago, Avantra provided Managed SAP Services ourselves. From simple out-tasking via remote monitoring and remote operations, to full-stack outsourcing. I don't recall a single one of our customers not wanting to visit our data centres before signing a contract, even though we were periodically certified as a hosting partner by SAP.
This transparency went as far as background checks of the people actually operating the customers' SAP systems. The reason for this was simple: we needed to gain our customers' trust. Everything around SAP comes with a massive investment. So does outsourced SAP operations by a partner. And of course we wanted to be our customers' partner. A trusted partner!
Back to today's public clouds: how do the major cloud providers earn your trust? Is it trust that makes you consume their services at all? How come businesses accept that breaching a Service Level only reduces future payment obligations towards the service provider? A couple of years ago penalties were a major section in each contract.
The try and buy model
One of the ways the public cloud providers gain trust is basically a try-and-buy model. You start with very few, probably relatively simple workloads and convince yourself that the black box somehow delivers what you expect. You can do so easily because the pay-per-use concept doesn't involve any upfront investment. And, let's be honest, the promise of low prices compensates for the lack of trust the more sceptical of us may have.
Operational transparency in SAP operations
In SAP operations, neither try-and-buy nor pay-per-use are viable routes for MSPs. Whether you begin with a provider that implements SAP or takes over your existing SAP landscape, both involve massive projects with high spendings. So, as an MSP you have to earn trust the hard way.
Establishing mutual trust between MSP and customer is one of the core fundamentals of the Avantra AIOps platform. And we do so by leveraging operational transparency.


SAP Operational Transparency: complete visibility of all your SAP operations >>


Using Avantra, MSPs and their customers use the same platform and the same data for all SAP operations-related activities. Every MSP can decide—on an individual basis—to disclose health data of the systems they operate on the customer's behalf, as well as the operational tasks the MSP performs. Either by providing online access to the live data, or by using the extensive Service Level Reporting capabilities of the platform.
What more can you do to gain trust from an MSP perspective than to let your customers watch your hands all the time? Perhaps reducing their costs—for instance—by stopping their development systems automatically outside of office hours? Or show them all security relevant SAP notes have been applied?
And since Avantra is a multi-tenant solution, since the very first versions, customer-specific data is isolated from other customers. Rest assured no customer is able to see other customer's data, or even their names.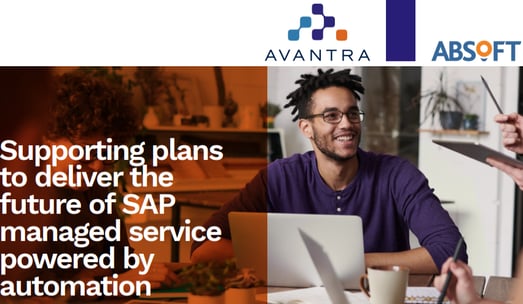 Supporting plans to deliver the future of
SAP managed service powered by automation
Read the Absoft Case Study now >>