11 min read
How Zappos' SAP basis team live and deliver WOW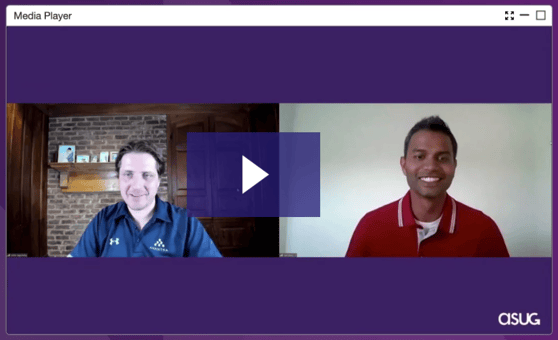 Get insight into how Avantra helped increase the efficiency of Zappos' IT operations team and improved their work-life balance.
John Appleby, CEO of Avantra, connected with Sandeep Cumbamanagalam, Business Applications Principal Software Engineer at Zappos, at ASUGFORWARD, a live customer-curated, customer-led digital experience that took place on June 22–25th, 2020. From discussing the work culture at Zappos to how they use their SAP operations to deliver Wow, get insight into how Avantra helped increase the efficiency of Zappos' IT operations team and improved their work-life balance.
Read the highlights of the conversation below.


John Appleby: I know a lot of the readers will know what Zappos is, but what they may not know, is that Zappos has a really interesting and unique work culture. Sandeep, can you tell us a little bit about Zappos' culture?


Sandeep Cumbamanagalam: At Zappos, our mission is to deliver happiness to our customers, employees, and vendors. The idea behind this is the notion that happy customers and employees tend to be more engaged with Zappos and will thereby drive the business forward.
Following this mantra, everyone in the company strives to provide the best service possible at any point and that applies to all aspects of the business. It is interesting to see how things transform in the company when everyone is trying to do their best work and it goes a long way.


John: Up until the pandemic at least, members of the public could book tours of the Zappos building and they could get an idea of the work culture at Zappos.


Sandeep: Yes, we do have public tours so people can come in and tour our offices and get a sense of our culture. When I joined Zappos 11 years back, one thing that stood out for me was how relaxed everyone was when they came to work. You are encouraged to bring your true self to work and not come in and be someone else and try to do something that you aren't used to. At the end of the day, it's about being passionate about your work and doing what you are good at.


John: I know Zappos has a set of core values, and a culture where you call yourselves, 'Zapponians'. Can you tell us a bit about the core values and how that drives you at work?


Sandeep: At Zappos, our core values are more than just core values; they are a way of life. We have 10 core values and while we may not actually think about them every day, we try to live by them. The core values have been instrumental in guiding us in everything that we do, including the way we interact with our colleagues, our customers, and the community, or even for that matter how we interact with our vendors and business partners.
Even if our strategies and processes change and we grow, the ten core values will always stay and be the same. Two of our core values are 'Delivering wow through services' and 'Be passionate and determined'.


Zappos' SAP operational efficiency




John: Changing tracks to IT operations, how do these core values relate to automation within the SAP environment?


Sandeep: Our #1 core value, is 'delivering wow through service'. We always try to go above and beyond to provide exceptional customer service to our customers.
In the case of my team, the customers are our colleagues or the users of the SAP system. We always strive to be proactive when it comes to helping our users, and we don't want to be in a reactive state of mind. For example, we want the users to report errors, as and when they happen. If the system is running slow, we don't want users to wait to flag the issue 20 minutes later. Before we were introduced to Avantra, we relied on our network and server monitoring coupled with Solution Manager for SAP application monitoring and we weren't too happy with the results. Moreover, our small team of six handled everything SAP related at Zappos and we were looking for solutions to improve the monitoring and alerting framework.
When the team from Avantra met us and gave us a demo of the SAP monitoring automation tool, we were really impressed. We wanted something that was easy to deploy and maintain and we thought Avantra's tool fit the bill perfectly.


John: Companies may choose to automate their business for various reasons. The most common reasons are to improve business operations and to reduce outages. We have also heard of cases of understanding risk profiles, security, and audit compliance. What was the underlying issue that drove the need for automation at Zappos?


Sandeep: This goes back a couple of years when we had implemented HANA. We wanted to improve the overall performance of the SAP systems and had migrated all our SAP applications and systems to HANA on AWS a few years back. However, with the enhanced performance that HANA provided, it also highlighted our lack of having a more robust and SAP-specific application monitoring and alerting framework. At the time, our monitoring and alerting framework was generic at best and it was not tailored to SAP. We wanted something that specifically focused on SAP applications. To add to that, we had about 60 instances running on EC2 and we needed a tool that seamlessly integrated with AWS while providing the flexibility to monitor SAP-specific KPIs.
When we were introduced to Avantra, we saw that it had both built-in checks and specific custom checks. The built-in checks are very helpful because they are focused on SAP and we don't have to spend a lot of time configuring it. The custom checks are great to work with too as we can build on them. Overall, Avantra's tool worked remarkably to meet our requirements.


John: Implementing tools in SAP environments can be a long and drawn out process. It is time consuming and resource intensive. Can you tell us how long implementation took and what was involved?


Sandeep: The implementation itself was very smooth and Avantra had a lightweight footprint.
All we had to do was install Avantra's master server and connect it to our existing AWS account. It was then able to pull all our EC2 instances. We then just had to classify it as an ABAP system, or a java system; deploy the agents on the system and we were up and running. We even put in about 5 SAP-specific custom checks as part of the go live.
Overall, the entire process took a month to go live. Once the contract was signed, the implementation was fairly smooth. We were truly impressed with how quick the whole process was.


Real time monitoring and alerts

John: What, in your opinion, are the benefits of using Avantra? Have you been able to solve customer issues pertaining to monitoring and alerting? Say, having a customer that says something like this, "I want to know about the problem before I get a call from the CFO telling me that he can't process the invoices". Do you feel like you're getting there?


Sandeep: Definitely. Before Avantra, we didn't have a robust alerting and monitoring system in place. However, with Avantra in the picture, we have not only saved costs but we have also been able to make our team much more self-sufficient and agile. Our operational rigor has improved a whole lot too.
Moreover, Avantra exposed certain errors that we were not aware were happening in the system. These were errors that affected user experience. Once we put in these tags, Avantra was able to alert us of these errors, which we were able fix in time and preemptively. Needless to say, things have changed dramatically since Avantra.
With the number of false positives or false alerts being sent decreasing, our team has become more efficient. We have more resources to react and solve errors that matter, which in turn saves us a lot of time.


John: This is something we hear a lot, in fact. When you want to update Avantra or SAP, you'll be able to do that without any hassle. It's a very straightforward process that saves everyone time.
We released Avantra Version 20.05 this week which includes a host of interesting features like the agent lists deployment and the mobile app. We try to release at least three fully innovative upgrades every year.
Moving on, I recall that Zappos wanted to automate downtime in one of our initial meetings as the Systems Integration team was manually required to schedule downtime otherwise. Is that still a priority?


Sandeep: Yes, this is still a priority. Since we went live in March, we have deployed 20-odd custom checks and we have been working on a few more. We want to identify all the edge cases in the application that throw errors and capture them. Once we identify all of them, we would like to move on to setting up custom dashboards for the users so we can share what goes on in the system with the users. And with the mobile app being released in Avantra's latest version, it will make it easier for them to consume these dashboards.
Next up on the list would definitely be downtime automation for us. We want to be able to automatically break down the AWS, instead of the applications on it, and restart it without any human interaction on a schedule.


John: Can you give us an example of one of the custom checks you configured? What purpose did this custom check serve?
Sandeep: One of our custom alerts is set up to catch processes that cause the response time to exceed 30 minutes. We began noticing that especially the processes that were running too long, tended to affect the response time eventually. Our custom alert notifies us if any process or job takes more than 30 minutes before it's too late. This way we are not caught unaware 3-4 hours down the line nor do we have to wait indefinitely for something to happen.
Custom alerts have helped our inbound and outbound queues on PI and ECC as well. Earlier we had a lot of issues with the queues stopping for various reasons and casting them up was a lot of work, especially for time sensitive and high volume interfaces. These alerts have saved us a lot of time and even manual effort as we no longer need to spend time trying to figure out the source of the issue as we used to previously.
An instance I remember is when we had an EDI interface with one of our vendors coming in to ship the products into our warehouses. On the off chance that the queue would close up, the products would stop coming in into SAP and our Inbound Logistics Team would be dependent on us to figure out and solve the problem. By the time we had dug through the logs, found the issue, and fixed it, we would have lost a day or two. However, we now have 30-45 minute SLAs. We are notified as soon as the queue stops and we are back on track in 30 minutes. It's been a lifesaver!


Work life balance at Zappos

John: I'll wind up with one last question. In one of our preliminary meetings, your boss stressed on the importance of a work-life balance and wanted to make sure that you didn't have to wake up in the middle of the night for issues that could have been solved later in the morning. So, have you been getting more sleep now?


Sandeep: I definitely sleep well now! I know that anything important will be caught in time and I will be notified right away. I don't have to wake up at odd times in the night anymore nor wait till the morning to sort through e-mails to know what issues might have happened overnight.
As I mentioned earlier, the custom alerts and all the out-of-the-box alerting features that Avantra's monitoring automation tool comes with has worked phenomenally for us. It saves us a lot of man-hours by just having the right alert coming in at the right time.
And eventually, by automating downtime, I am hoping Fridays and weekends clear up for us too!
On a closing note, I would say Avantra's monitoring tool is a lightweight, easily deployable and highly customizable tool that everyone should at least have a look at and give a shot.


John: That's wonderful to know. Thank you so much, Sandeep for joining us today! It's been an absolute pleasure.


Sandeep: Thank you for having me, John!