We are thrilled to announce the release of version 20.11 of Avantra providing the next step on the journey to a data-driven fully automated AIOps solution.
Our final major release of 2020 is now available for download from downloads.avantra.com. It brings a whole set of new features and updates that will delight our customers and help them to take a significant step forward in their SAP Operations modernization journey.
For a full explanation of what's new in Avantra 20.11, join Brenton O'Callaghan, Avantra's Chief Customer Officer, and Bernd Engist, Avantra's Chief Technology Officer, in this short video covering all of the new features in detail:

Introducing support for SAP IQ Database
With 20.11 we're introducing native support for SAP's IQ database including eight (8) new out-of the-box checks which are applied automatically during configuration. Avantra 20.11 also includes resource usage predictions (forecasting), performance data collection and support for customer-defined checks (custom checks) for SAP IQ.
SAP Cloud Platform & SAP Cloud Connector
The majority of SAP customers have some set of cloud components integrated into their landscape, and this aligns to SAP's mantra to "Keep the core clean". With Avantra 20.11, we're introducing native support for the on-premise component "SAP Cloud Connector" so that you get instant visibility into your connection and integrations to SAP SaaS products. We also include support for the SAP Cloud Platform (Neo and Cloud Foundry). This feature contains out-of-the-box checks for day to day operations, including Keystore expiration issues or failed messages.
SAP SLT
We've enhanced our auto-detection within SAP systems to include support for SAP Landscape Transformation Replication Server (SLT). When detected, Avantra applies five (5) new out-of-the-box checks to the system to cover topics such as "IUC Jobs", "Unprocessed records" and much more.
SAP HANA Enhancements
As part of our constant expansion of system support, we're introducing five (5) new native checks for SAP HANA out-of-the-box bringing our total to twenty-three (23) SAP HANA checks applied to HANA systems automatically by Avantra 20.11. Further checks include:
| | |
| --- | --- |
| HDB_Admission | Checks for delayed SQL statements due to admission control – introduced in HANA 2.0 |
| HDB_License | Checks license expiry date and peak memory consumption of the HANA instance compared to the licensed peak memory. |
| HDB_SystemUser | Verifies whether the user SYSTEM in a HANA environment is deleted, deactivated or in use |
| HDB_TableAllocationUse | Checks how much memory in % does the table row store uses compared to the defined global_allocation_limit |
| HDB_TableRowCount | Identify table partitions approaching the upper limit of the 2 billion rows. |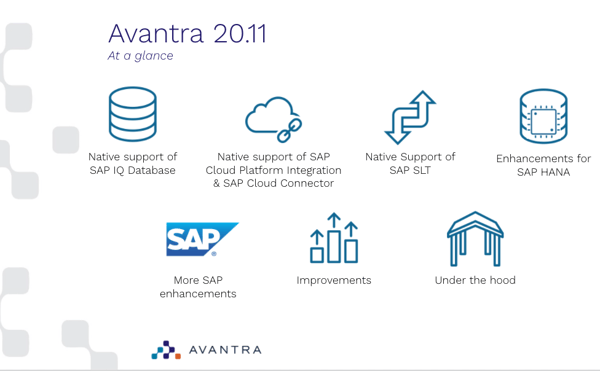 Other SAP Enhancement
s
Introducing start/stop automation for SAP Business Objects
XML Message monitoring (SXMB) for all ABAP systems
Other improvements (See release notes)
Other "Under the hood" Improvements
Significant enhancements to the Mobile application bringing customer-requested features
Google Cloud and Azure enhanced integrations including system synchronization
Enhanced database version support including the ability to filter based on a revision
Custom check improvements, including:

Environmental variable support for RUN_PROG types
Updated Javascript engine for RUN_JS and SQL_Query custom checks
Support for self-signed certificates for HTTP_RESPONSE queries

Support for multiple SAML identity providers
Significant performance improvements for large landscapes
Azure SQL database support
---
Join Avantra on Thursday, December 3rd at 11am EST for the only web conference to leave you tinglingly full of hope for the year ahead. The Avantra Summit 2020 is a more enriching way to spend 90 mins rather than sitting through another (sub-par) web conference. Say no to accepting the slow grind towards the end of a year dominated by uncertainty, and come together with like-minded technologists for an event like no other you've attended this year.