5 min read
SAP hyperautomation: SAP and the future of robotic process automation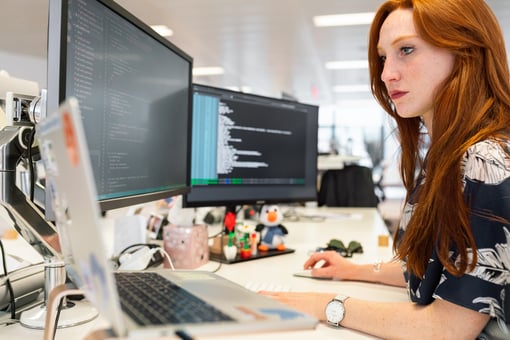 In a post COVID landscape, the business world is increasingly focusing its attention towards task automation and digital first processes to allow them to save time, money and valuable business resources.
As one of the key technology trends of 2022, hyperautomation is quickly becoming the main way organizations are achieving these goals. This is mostly thanks to advanced technologies such as Robotic Process Automation (RPA), aided by Artificial Intelligence (AI), Machine Learning (ML), and Business Process Management (BPM).
In this article, Avantra takes an indepth look at the business benefits of SAP hyperautomation and how RPAs can help achieve real time 'hyper analytics' for unrivaled business data insights.
Why is automation important?
Hyperautomation, as defined by Gartner, is a business driven disciplined approach for rapidly identifying, vetting and automating as many business and IT processes as possible. In a nutshell, hyperautomation is a 'true' form of digital transformation.
Despite the many complex technologies at its core, hyperautomation essentially boils down to automation at scale.
By enabling the automation of large scale SAP implementations, hyperautomation allows businesses to release the 'drag' of their legacy SAP systems.
This provides organizations with the ability to also streamline how SAP integrates and works with their other IT/OT operations to better manage the complexities of their hybrid environments. In essence, gaining more results from less resources.
Hyperautomation and SAP HANA
Traditionally, SAP has been difficult to automate due to landscape complexity and legacy nuances.
In 2010, SAP made the first steps to remedy these difficulties with the release of SAP HANA, a powerful in-memory technology built for fast queries and high speed transactions.
With the subsequent 2015 release of SAP S/4HANA, the first major software upgrade since ERP Central Component (ECC) in 2004, SAP opened the door to increased process automation.
Today, as more companies seek to upgrade and migrate their critical IT systems to the cloud as part of their overall digital transformation strategy, SAP hyperautomation can be a powerful first step.
In these cases, 'hyperautomation' refers to not only the individual SAP tasks and processes that can be automated, but also the level of automation.
What are the benefits of SAP hyperautomation
SAP hyperautomation offers a whole host of benefits to organizations. Some major benefits of hyperautomation include:
Ease of Integration:
SAP Basis teams can integrate Intelligent Robotic Process Automation (iRPA) to automate, monitor, update and migrate entire SAP implementations with relative ease, often using a fraction of the time and resources that were previously required.
Productivity Improvements:
Robotic process automation (RPA) also negates the need for SAP Basis teams to perform tedious repetitive tasks e.g., process mining – even across particularly complex SAP landscapes – allowing them to focus their time on other more important tasks.
Improved ROI:
SAP hyperautomation can aid organizations in reducing costs and boosting revenue by allowing them to better optimize the deployment of their resources.
Flexibility:
Through hyperautomation, organizations can easily monitor and process SAP data to make better and faster decisions. This allows them to be flexible enough to quickly adapt to rapidly emerging challenges.
Better Data – 'On-demand':
Using powerful hyper-automated data analytics, or 'hyper-analytics', organizations can quickly turn unstructured business or event data into real time insights and actions.
How do you put SAP hyperautomation into action?
Despite the relative ease of use, once the process has been completed, actually putting hyperautomation into action is by no means an easy undertaking.
Essentially, hyperautomation involves a roll out of new automated processes across most, if not all, of an organization's business and IT processes.
Focusing on SAP hyperautomation, turning theory into action can be a colossal challenge for many organizations to take on alone. Insufficient team resources, time constraints and legacy landscapes all pose their own unique challenges to furthering SAP automation.
With so many roadblocks to manage, how can you fully embrace SAP hyperautomation for greater efficiency?
Best-of-breed SAP automation solutions like Avantra are key.
Avantra's out of the box automations save you time and effort right from day one, allowing you to:
automate both SAP and non SAP operations.
prioritize tasks using customized thresholds specific to your organization.
access a library of automations in source code to simplify everyday processes and checks.
integrate PaaS and SaaS solutions such as SAP BTP.
automatically analyze and flag HotNews security alerts.
Thanks to deep and specialized integration with SAP operations, backed by more than 20 years' experience and the most extensive knowledge in the industry, Avantra is ideal for Basis teams and 'citizen' developers. Avantra allows them to further develop and have customized automations to improve business outcomes without the need for specialized skills.
Enabling SAP hyperautomation at scale
As the leading AI-powered workflow platform for SAP systems, Avantra is also key to immediately simplifying and accelerating your organization's hyperautomation journey to scale.
Avantra is specifically designed to turn complex SAP landscapes into accelerated "hyper workflows".
One of the ways it achieves this is by providing an automation base layer, helping SAP Basis teams to better manage complex mission critical legacy environments.
Avantra enables your teams to release capacity from the drag of managing legacy SAP systems by instead, redirecting internal resources to power your organization's hyperautomation success.
Shifting the focus from just managing and 'keeping the lights on', to creating actual business value.
With SAP operations automation through Avantra, your business can successfully integrate, automate and maintain workflows across multiple SAP and non SAP systems at scale. Improving productivity and reducing costs and reducing risk, all while improving your quality and compliance.
Ready to experience the full power of Avantra? Get your free demo now.