5 min read
Monitoring SAP hybrid cloud deployments, is it that simple?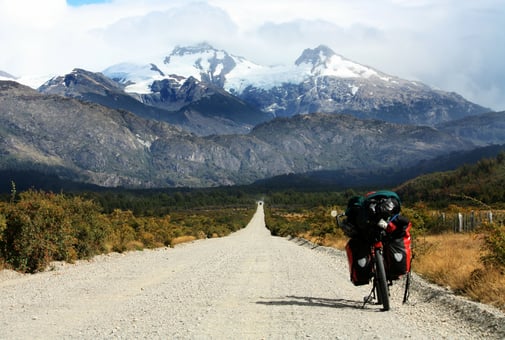 Hybrid infrastructure/hybrid cloud environments in which the IT infrastructure contain a mix of on-premise, private or third-party clouds, and public clouds services all integrated and orchestrated to work together is becoming common architecture.
SAP landscapes are following through with a growing amount of companies adopting SAP hybrid cloud environments, typically using one of or few of the following elements:
Large-scale, public SAP hosting providers: Amazon Web Services, Microsoft Azure or Google Cloud.

Smaller, niche hosting providers that focus solely on hosting SAP systems (public or private) offering managed services as an added value.

SaaS solutions by SAP such as Success Factors, Ariba, and Concur.

Legacy on-premise solutions that the enterprise can not or chooses not to migrate to a cloud environment.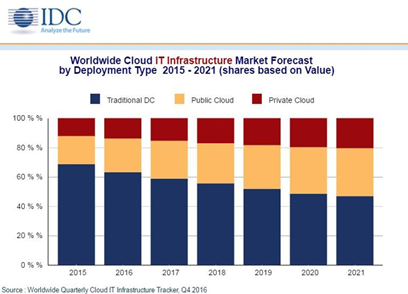 The continued use of hybrid environments is expected to continue for the foreseen future. IDC predicts that the mix of a public and private cloud will continue to grow, but on-premise deployments will remain north of 40% through 2021.
At the same time, Deloitte's research shows that there is a growing investment in cloud deployments with a growing percentage of on-premise spending will be replaced by cloud computing. Further more they say that both the traditional ownership IT model and the flexible (Hybrid) consumption model will coexist for years but there is an ongoing shift toward the latter. At current growth IT-as-a-Service will likely represent more than half of IT spending by 2021 or 2022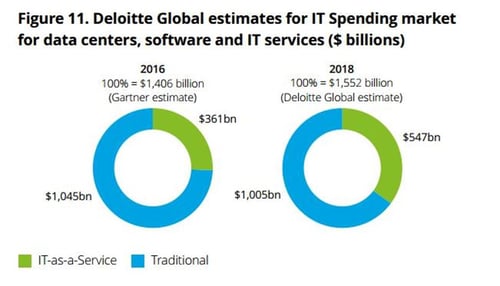 Complex hybrid SAP environment = Complex support
So what does this all equate to? I think we can all agree, that it results in an extreme complexity for the underlying support teams. IT and Basis teams will need to take on the standard tasks of setting up and configuring servers and applications all while ensuring secure connections to any off-premise solution. On top of that, day to day maintenance becomes a nightmare with extra levels of connectivity and data points that need to be considered when troubleshooting. This is where a strong monitoring tool comes into play, especially in the SAP world.
SAP deployment made up of a mix of SaaS solutions, public or private cloud along with on-premise solutions are common. Seamless performance to the end user often relies on a multifaceted set of workloads over numerous solutions, sitting at various hosted and on-premise servers with extremely complex networking in place to keep everything secure.
"Hybrid SAP performance is bad," where do you start?
Just think of your company support team's response when they hear "SAP performance is bad." Where do they even begin? Well, usually monitoring is the starting point. But most organizations fall victim to the multiple tool monitoring setup, with different tools monitoring on-premise infrastructure, the cloud environment, the different standard and in-memory databases, and the applications. This leads to hours of jumping through various tools, trying to align data points from various solutions, which eventually leads nowhere.
How about the even scarier monitoring tactic for cloud solutions…… not monitoring of your cloud solutions at all. I mean, that's the hosting provider's problem, right? Wrong! The last thing you want when troubleshooting is a 'black hole' over your hosted environments. That will lead to not just hours but days of finger pointing back and forth between the hosting provider and your organization.
You need to have one monitoring solution that can handle hybrid SAP deployments - in all its variations. One that will identify issues and notify before an end user report the problem. Let's be honest, if the end users are alerting the support team of issues, is the monitoring tool really doing its job?
Requirements of a SAP monitoring tool for hybrid deployments
So, what should you look for in an SAP monitoring tool for hybrid deployments?
First off, make sure your monitoring tool is one that designed and built to be a true SAP monitoring tool. Many monitoring solutions claim to be capable of monitoring SAP, but they are using outdated technology provided by SAP called CCMS. Even SAP's support teams do not fully utilize this technology anymore. Be sure the SAP monitoring tool you select has its own methodology of pulling the necessary monitoring statistics right from the source and do not rely on other tools to get the required information (especially not CCMS or Solution Manager).
Second, keep an eye out for monitoring agents where applicable. The agent is installed on all servers in the hybrid solution whether public, private or on-premise. Each monitored SAP system could have one or multiple database connections. Without an agent these connections will need to be done through the data center, over the internet, through the public cloud networks, into your server and directly into your SAP system. Passing this information unencrypted via this methodology is beyond extremely dangerous. Monitoring using an agent has regained popularity in SAP hybrid solutions as it can pull the information from the public server, encrypt it and then pass it along back to your data center where it would be displayed for your team.

Lastly, as no network is immune to failures, those happen from time to time. If the communication between the agentless monitoring tool and the cloud systems is disrupted or degraded, for any reason, you will be left with gaps of missing historical data in your monitoring data, trends, and timelines. Just because a network connection is disrupted, doesn't mean the SAP system has stopped processing data. An agent-based tool will continue to collect and retain this information on the agent until the connection is reestablished and then pass the information back to the central tool, ensuring SLAs and historical data are intact. By the way, a nice bonus of the agent-based system is that it will continue to monitor the source and target databases and operating systems even while the SAP application layer is down during upgrades and migrations. You may want to learn more about HANA migration monitoring best practices which we've discussed in the past.
Xandria was build to support hybrid SAP deployments. With over 1000 HANA systems and more than 10,000 SAP systems being monitored, it offers unmatchable capabilities and SAP visibility. Learn more about it here