4 min read
How to get the most from SAP on Azure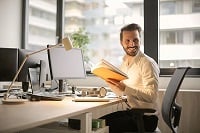 In this post, we'll show you how to get started with SAP on Azure.
We'll also cover the key features of SAP on Azure and how they can benefit your organization.
We'll show you how to set up SAP on Azure using Azure Active Directory (AD) and how to configure your SAP on Azure account. We'll also show you how to access your SAP on Azure account.
Give Avantra a try today for free.
In addition to being a cost-effective alternative to legacy, on-premises installations, Azure SAP systems can be deployed automatically with minimal time invested in configuration and preparation. SAP and Azure pair up perfectly well, providing an incredibly well-integrated platform for enterprise-grade systems to build on. Below, we'll explain:
More about SAP on Azure and what to expect
How workloads are maintained throughout migrations
How the migration to Azure generally benefits businesses
What happened when other businesses shifted to SAP on Azure
More about SAP on Azure
Moving your SAP workloads to the cloud on Azure can offer a number of cost reductions. Two particularly important ways in which your organization can save quite a lot are by performing a rationalization of its entire SAP landscape and pushing for rearchitecting your system.
Rationalization of your system involves attending to salient cost-related questions to determine what about your system is absolutely critical to your operations. This can mean rethinking just how large of a system you will actually need once your move to the cloud is complete as well as determining what parts of your workloads can be refactored to minimize replication requirements from your legacy system to Azure.
Being a cloud platform at heart, Azure offers a considerable degree of scalability in production, allowing your team to adjust spending even more as utilization intel becomes apparent.
Maintaining SAP workloads on Azure
Keeping existing systems and services in working order can often come up as a prime obstacle in the way of completing a migration from some other SAP infrastructure to Azure. However, Azure is designed to make maintaining your existing workload not only possible, but far easier than it likely was before you made the switch. In fact, it could be reasonable to anticipate significant cost savings from performing such a switch.
One of the most prominent ways in which your costs could be considerably cut by switching your existing SAP infrastructure over to Azure is by the Hybrid Benefit licensing loophole the platform can offer you. This makes it possible for companies to skip paying additional licensing fees to make a move to Azure altogether when they are moving SQL Server instances or Windows Server installations.
Risk is further reduced for companies choosing to migrate their SAP infrastructure over to Azure through the use of great reference architectures.
Microsoft's Azure platform also takes particularly well to the use of hyperscalers to get far better performance out of your SAP installation.
Benefits of SAP on Azure Cloud
SAP cloud integration on Azure nets companies all of the pivotal benefits that Microsoft and SAP have worked so hard to cultivate in tandem. Both companies have actually partnered together on multiple initiatives for quite some time, going back as far as 25 years. The knowledge that they have contributed to each other's development has been substantial and the implications are potentially game changing for companies in search of the best environment to run their SAP products on.
Azure has benefited directly from Microsoft and SAP's mutual involvement over the years by becoming fully SAP certified for running mission-critical applications. This means that Azure is uniquely suited to housing full scale SAP systems across a variety of strategic geographies.
Azure cloud is fully optimized for SAP systems and SAP HANA infrastructure. On Azure, companies can count on having access to truly impressive SAP HANA-ready architecture with anywhere from 192GB to 24TB of usable memory when scaled up in the traditional way. However, should you choose to scale out your memory provisions instead, Azure can offer an incredible and nearly sub-second latency, optimized active memory platform outfitted with as much as 120TB of total memory.
The system designs you can expect from Azure as a platform are remarkably resilient. They benefit from as much as 99.99% availability on a daily basis, ensuring your vital business operations remain online at all possible times and little to no revenue is lost due to unnecessary downtime.
SAP on Azure case studies
One of the most interesting SAP Azure case studies comes from Microsoft itself. The team at Microsoft successfully moved their legacy SAP system to Azure in 2018. The full size of Microsoft's SAP landscape at the time was roughly 50TB and the importance of a smooth transition was overwhelming. Thankfully, the transition was more successful than envisioned, leading to a 25% reduction in operating costs once it had been completed.
Moving SAP to Azure can also guarantee a greater degree of flexibility than on-premises installations can offer. Azure offered an end-to-end supply chain industry leader access to hyper-scalers capable of running mission-critical systems with minimal downtime.
Optimize your SAP systems today
Migrating to Azure is a great way to get more out of your SAP applications. But there are other ways to make SAP more effective for your team. Check out Avantra today to learn how automation can play a pivotal role in optimizing your SAP workflows.