Update Sep 2017: Guess what, our predictive analysis tool just became better with version 7. We launch predictive resource planning and dashboards, both can be extremly usuful for resource and budget predictive planning. Read more here
We're excited to announce the newly released version 6 revision 5 - a new version of the syslink Xandria SAP monitoring system. We've added several new features. Few that are worth elaborating on are the following:
Predictive Resource Planning - Based on predictive analysis of previous performances of landscape-wide resource utilization, Syslink Xandria can forecast exactly when your landscape will require various levels of demand for database and server output. Xandria's advanced and unique resource forecasting capabilities allow organizations to properly schedule and manage resource consumption. Systematic resource forecasting helps to accurately construct and adhere to budgets.

Predictive analysis - This tool provides indications of expected growth of several SAP HANA checks and resources allowing for both better planning as well as predicting issues and resolving them before they happen. For example, the file system space predictor can indicate the expected time that the storage will fill, giving the engineers enough time to remedy before it becomes business impacting.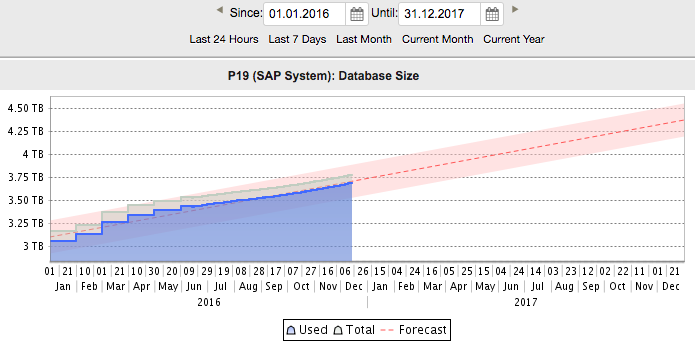 3rd party managed checks - The addition of 3rd party application real-time monitors into Xandria is now quick and easy. SAP engineers can now view their SAP systems along with their ancillary systems via a single pane of glass in Xandria and utilize the robust reporting, notification and escalation processes that Xandria brings.
Direct SAP Access - No more fumbling between the SAP GUI and Xandria. With our new 'Auto Login' button, a single mouse click will take engineers directly to the relevant transaction of the SAP system.
Policies enforcement - The enforcement of policies regarding security parameters and formatting is a new tool that ensures company security policies are met. In this version, we've added the `PARAMETER_VALUES` custom check for (A)SCS, Java, and Web Dispatcher instances. It also supports the verification of null or 'not found' parameters.
Additional Security Enhancements - We've increased security in the `J2EE_Connect` P4 connection check using TLS. In addition,the web GUI now supports access control based on client certificates, such as Single Sign-On (SSO).
Other features added in this version:
Support for monitoring of Enqueue Replication Servers (ERS).
Check for Xandria updates from within the Xandria's web GUI (XanGUI).
Unattended installation of Xandria Agents.
Connection checks for the Web Dispatcher, where a corresponding user can be defined for every SAP System.
Import and export of Notification Actions.
Performance charts are displayed in the Xandria mobile application
Support for all new version 6 agent features for HP-UX
Join a 15-minute live demo webinar where you can see for yourself what Xandria can do to improve SAP monitoring.