5 min read
New Avantra 20.5 is here, what's new?
By: Avantra on Jun 3, 2020 3:51:59 PM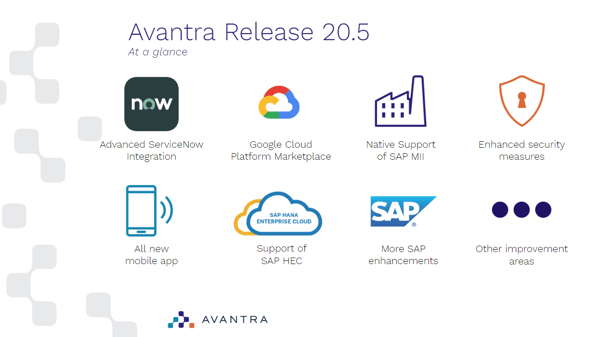 We are thrilled to announce the release of version 20.5 of Avantra providing the next step on the journey to a data-driven fully automated AIOps solution.
The move toward a post-COVID world brings with it a lot of challenges and changes, which inevitably affect IT operations. Three months ago we launched the new version of our AIOps & Automation platform Avantra, which had extremely positive feedback from our clients. Avantra 20.5 enhances hyperscalers' and ServiceNow integrations, security, and SAP HANA Enterprise Cloud (SAP HEC) connectivity providing a solution to drive further efficiencies in IT operations. This will support productivity improvements and allow key staff to focus on more valuable and exciting work.
We are proud to announce that, in addition to the Avantra listing in Amazon Web Services (AWS) marketplace, Avantra will soon be available in the Google Cloud Marketplace as a Kubernetes deployment for a quick and simple setup.
This blog provides a brief look at some of the new features we're bringing in this release.
If you would like to learn more about the new version please contact us and we'll be happy to take you through an in-depth, customized demonstration of Avantra, tailored to your needs.
For more details check out What's new in Avantra v20.5.
ServiceNow Integration
Avantra introduced the integration with ServiceNow IT Service Management (ITSM) to automatically create incidents from Avantra back in May 2019. Many clients are already using ServiceNow with Avantra. In this version we take the integration one step further and provide new enhancements that include: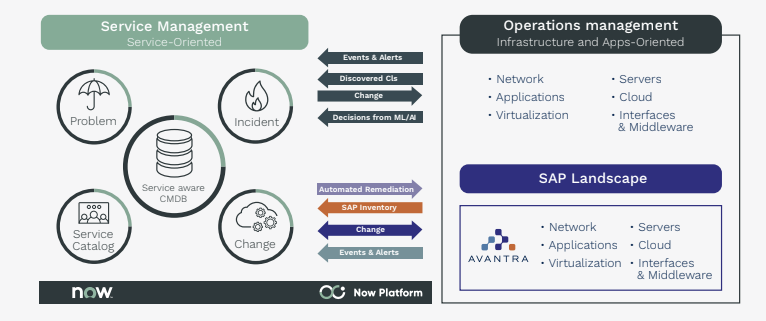 Visibility - Using Avantra you'll get complete visibility of your SAP landscape's health and performance. Avantra significantly enriches ServiceNow Configuration Management Database (CMDB) data with detailed SAP data including complete asset/inventory data, dependency mapping, and tracking of any configuration changes ensuring compliance and audit readiness.
Health - Avantra's full-stack AIOps automation integrates detailed SAP monitoring data into ServiceNow CMDB and ITSM datasets. Using Avantra your team can easily identify an incident's root cause, detect issues early, and even prevent issues with SAP performance, health, and compliance. Avantra automatically creates incidents in ServiceNow enriched with meaningful and detailed SAP information.
Optimization - Avantra's advanced automation platform combined with the governance and control of the ServiceNow platform, allows businesses to auto scale, remediate, and patch complex and hybrid (cloud and on-premise) SAP landscapes based on business needs, budgets, system performance, and available maintenance windows.
Setting the integration is very simple and takes only a few minutes.
You can read more about it in the solution overview video or in the solution overview document.
Agentless deployment mode for systems running in private cloud

monitoring and automation

Avantra 20.5 lets users extend most of Avantra's full-stack automation and operational visibility to ABAP systems deployed in SAP HEC. This is an agentless deployment mode for systems running in private cloud, such as SAP HEC. The setup is easy and doesn't require the knowledge of SAP Control User.

Using RFC and JDBC connections with a minimal set of authorization, Avantra's agentless monitoring includes all your landscape, whether it is running on-premises, in the cloud, or even in SAP HEC.
Enhanced Security
Ensuring our customers' data security and the safe use of Avantra is always top of mind for our team. In this version, we bring enhanced security measures which include:
The already existing individual session key per agent is now used to secure the already encrypted communication even further by an encrypted message digest.
The per-Agent universal unique ID is now used to verify the authenticity of all communication peers, on top of the TLS encryption. This is a double measure to protect payloads, even in case traffic was to be intercepted.
The new security measures are automatically activated. There is no user interaction required and it does not affect the applications' performance.
You can read more about it in this new security white paper.
New Mobile App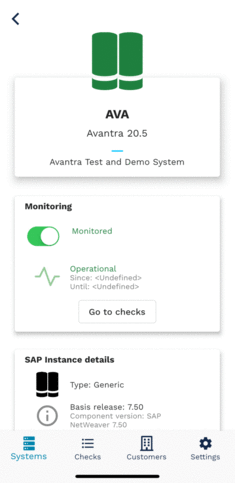 Our existing mobile application has served our clients well over the years, but the time has come for an upgrade. The new Avantra Mobile Application provides an intuitive interface for technical staff as well as IT executives who may not regularly access Avantra and provide each with the level of details they would need. The mobile is now available for both iOS and Android users and includes:
Detailed visibility on checks, systems, and business services
Ability to manage and confirm checks and systems: confirm and turn monitoring on/off
Support of multiple Avantra servers
This is just the first release. We have much more planned to release in the next few months for the new mobile app.
Native Support for SAP MII
SAP Manufacturing Integration and Intelligence (SAP MII) is a commonly used product for manufacturing industries. SAP MII functions as a data hub between SAP Enterprise Resource Planning (SAP ERP) and operational applications such as manufacturing execution systems (MES). The software collects data from production machinery, delivering real-time insights into its performance and efficiency.
SAP MII is often a critical component of our customers' SAP landscape and these Avantra new capabilities further ensure in-depth understanding of its performance and early-detection of abnormalities before they affect the business operations
In this version, we've added native support for SAP MII, on top of our existing custom checks that current SAP MII users have been utilizing. The new elements include:
Automatic detection that SAP MII is deployed on SAP Netweaver Java and automatic rollout of 8 new native monitors/checks
MII specific checks cover data servers, failed messages, failed and long-running transactions, and schedules
Other New Features and Improvements
New Dashlet Type Daily Check Overview - allows you to share landscape-wide daily check performance with a status "heatmap" view that includes customers or other users without having to give full access to Daily Checks
Import / Export of Monitoring Parameter Sets - useful to deploy settings to organizations with multiple Avantra servers
Several new native checks including checks for

Long-running SAP Netweaver Java threads
Dialog response times for SAP Netweaver ABAP and SAP S/4HANA

And much more….
For more details check out What's new in Avantra v20.5
You can get additional details in the release notes and as well as Avantra's product pages. If you would like to learn more please contact us and we'll be happy to take you through an in-depth and tailored demonstration of Avantra or watch a 10-minute demo.