Automate or fail
"We've seen two years' worth of digital transformation in two months. From remote teamwork and learning, to sales and customer service, to critical cloud infrastructure and security – we are working alongside customers every day to help them adapt and stay open for business in a world of remote everything"
That's a quote from one of our customers. And we hear this more and more everyday.
One thing that's top of mind for every SAP Operations team right now is innovation. But how can teams do this while dealing with:
A sudden shift in strategy?
A global crisis?
Additional complexity for IT management and monitoring?
Two things we know offer huge value to enterprises operating complex SAP landscapes: ITOM tools and public cloud services. And yet, there is a third element that can super-charge that value.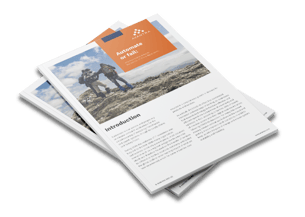 Automation
Without automation, businesses won't be able to keep up with today's pace of change. That's why we created this guide to getting the most from the full complement of ITOM, public cloud and automation. Because this tri fold is fast becoming the new normal for organizations that want to continue to innovate in a world of "remote everything".
Grab this white paper today, so you can improve IT operations management.
Improve IT operations management
Say goodbye to wasted SAP resources, with Avantra your company can:
Global organizations invest in Avantra to improve SAP performance in complex landscapes, including: