Real-Time SAP System Monitoring
Prevent failures with continuous real-time SAP system monitoring
Avantra's real-time monitoring includes more than 160 built-in checks, freeing your IT team from dependence on Solution Manager and other SAP tools. Avantra can monitor not only the OS, database, applications, and servers but also business processes, security and much more—even non-SAP-related third-party applications. Built to allow continuous, automated system monitoring, Avantra saves at least 25 percent of the hours your team would typically spend on daily checks. We've even included native checks for technologies such as SAP S/4 HANA and SAP Business Objects.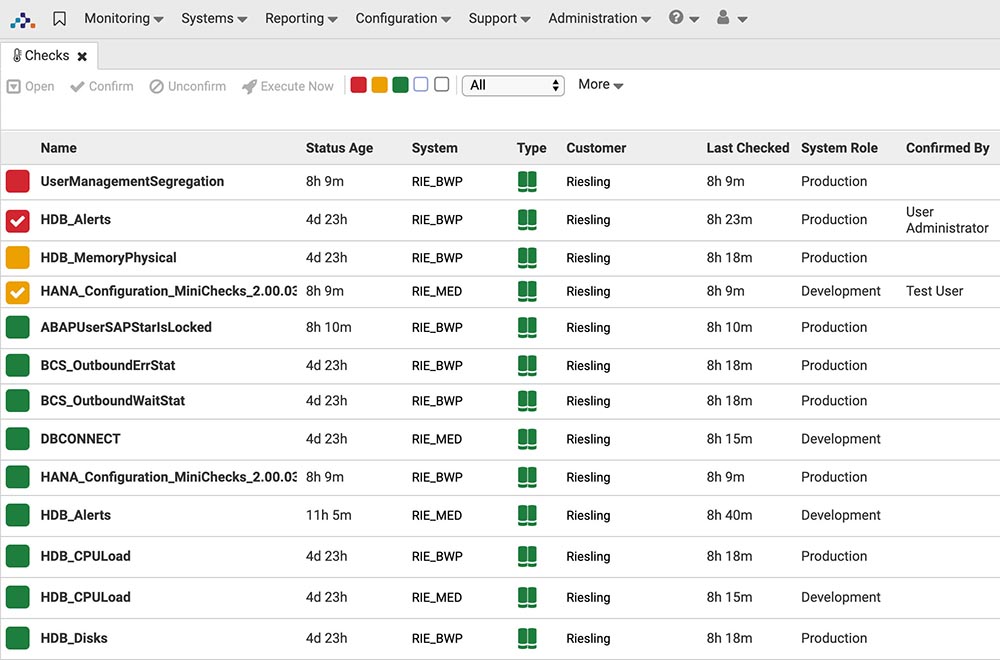 Custom Checks
Take SAP system monitoring tools to a new level—your own.
Get ready for ultimate flexibility in SAP system monitoring tools. Every landscape is unique, and so are its monitoring needs. So, in addition to the 160+ built-in best-practice checks, Avantra allows you to easily add custom checks to address your organization's most unique and specific monitoring requirements. Avantra provides real-time insights into system and element performance monitoring and health checks, business process monitoring, security and compliance monitoring, and much more. Custom checks are so flexible that there's never been a monitoring request Avantra couldn't take on—even with thousands of Avantra systems (and millions of checks running daily) around the world.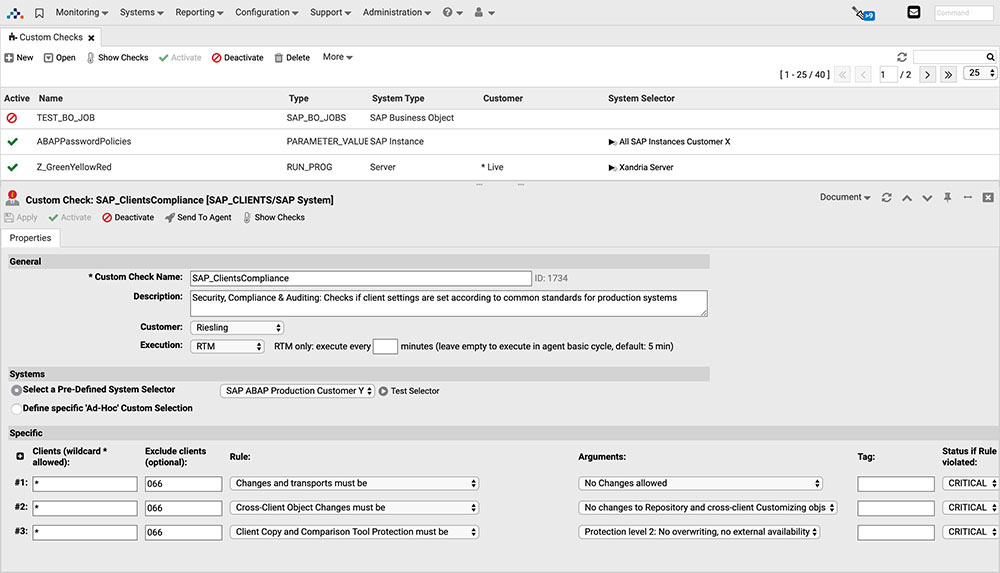 Daily Checks
Decide which checks you need and how often.
Some SAP system conditions simply don't demand real-time system monitoring. Only you know which conditions require daily checks—and you know when you'll need the information. Avantra lets you define the monitoring capabilities of your daily checks in order to receive the proper reports. Just as with Avantra's real-time SAP system monitoring, daily checks can include both native and custom checks. You decide what you want to be monitored and when (and if you want to use best-practice default thresholds).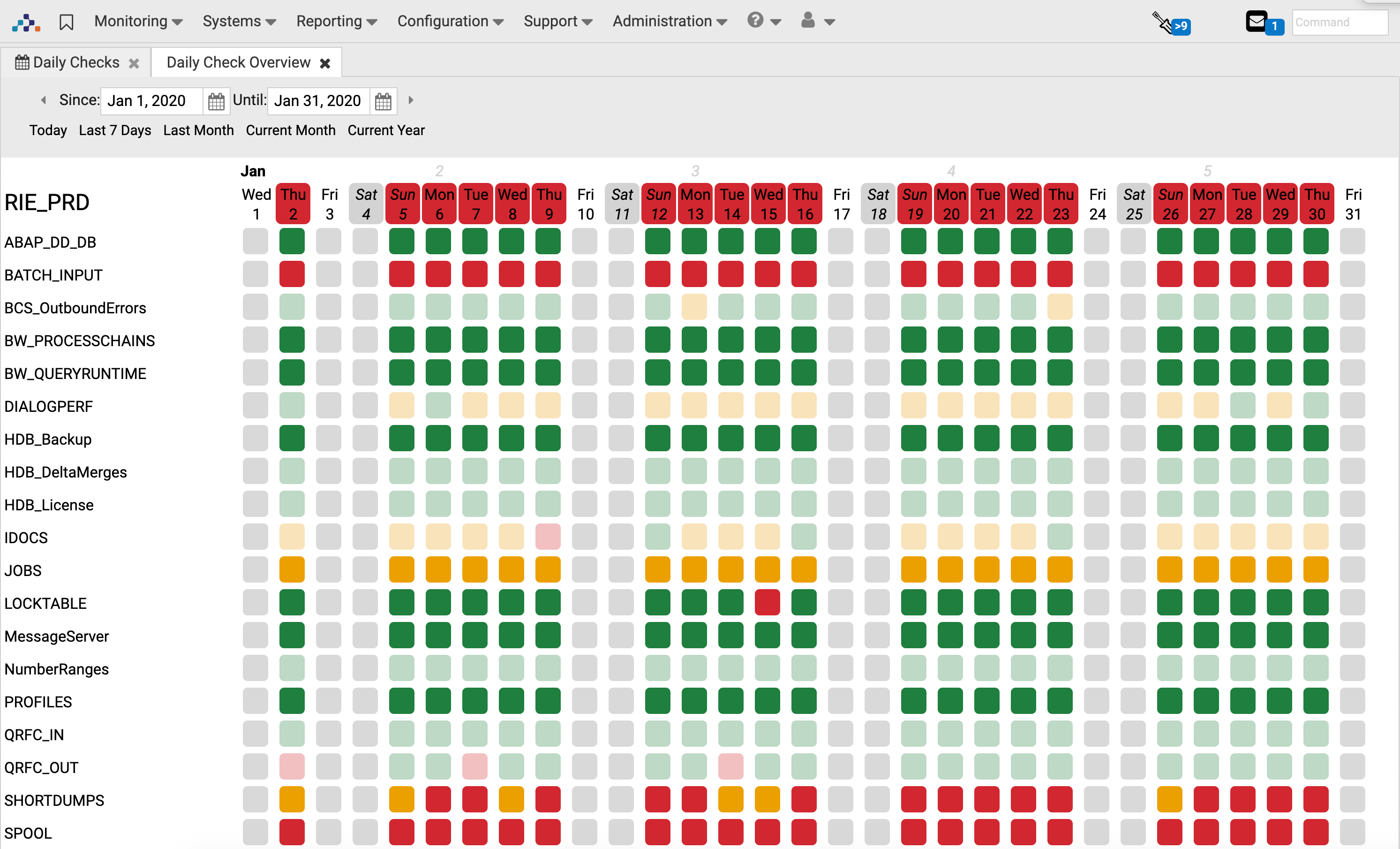 Error-Free Onboarding
Add a new SAP system, and we'll do the rest—automatically.
SAP landscapes are not static, especially when it comes to the dynamic nature of the cloud. But a constantly changing landscape should not require a lot of manual, error-prone monitoring configuration. Simply connect a new server—physical or virtual—and install the Avantra agent. Avantra will automatically identify the server, check for specific components—server, network, OS, SAP instances, HANA environments, databases, third-party apps and more—and apply the relevant monitors. Adding new systems is simple, fast, consistent, error-free—and automatic.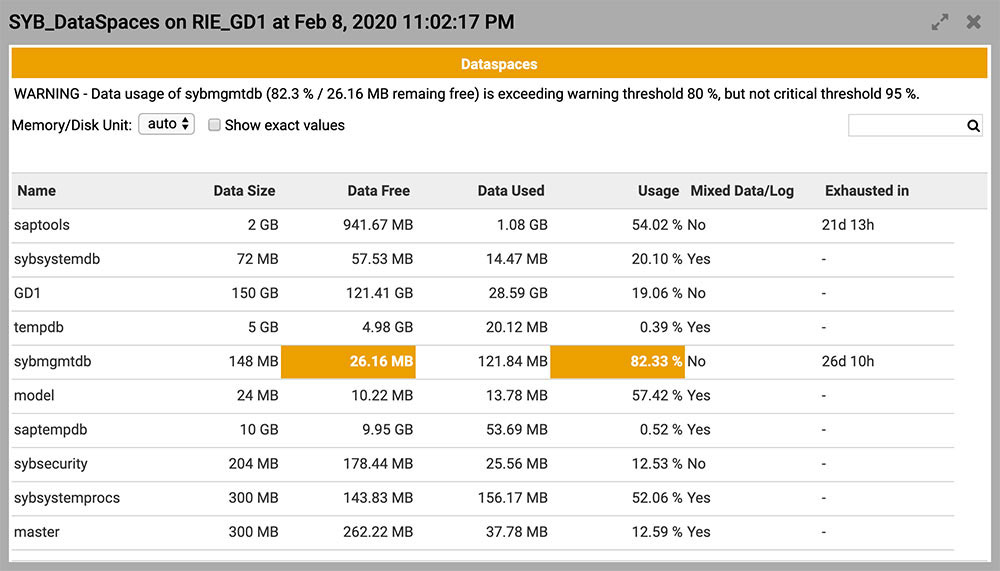 SAP Systems Monitoring Mobile App
SAP systems failures often happen in the least convenient times, when you are in your home office, or out for a walk. Using Avantra, you get a clear, meaningful notification to your phone via text. Even better you can monitor your SAP system using Avantra's mobile app (available on Apple store and on Android) - where you can get full visibility to your SAP system landscape performance and health and even stop and start your SAP systems.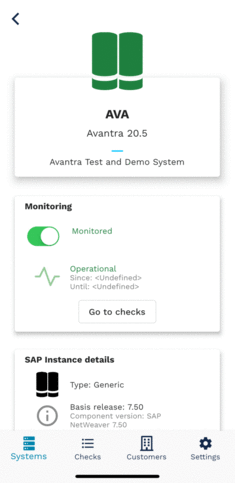 SAP System Monitoring with SAP System Health Checks
Making sure your SAP systems are continually running without performance degradation is crucial for your business. Monitoring an SAP system can often take several hours a day for an SAP Basis Administrator and then they only get to see the system state at the time they are looking. A critical issue could arise minutes after they log off. Our Real Time Monitoring checks are continually monitoring the SAP system looking for indicators that there is a potential issue. Combine this with our predictive analysis and we can often see and alert about issues before they affect Business operations. Not only are we checking the basics of server metrics but our SAP centric monitoring looks at key SAP performance indicators, database metrics including SAP HANA, and SAP Business Workflows using our Business Service monitoring. With the use of our alerting through email, ticketing (ServiceNow integration), or Mobile notifications; we can notify the basis team as soon as a potential issue is arising. Our dashboards and overviews give a single pane of glass into the status of each of your SAP systems. Keeping your SAP systems operating optimally is critical. Avantra is the key to making sure your SAP systems are healthy and performing at their best.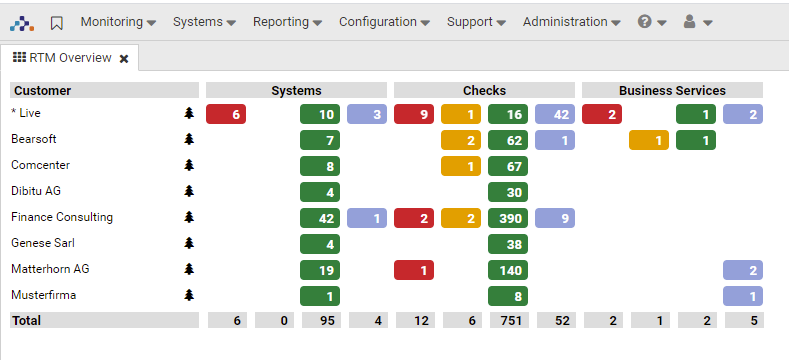 Increase SAP Automation, Operational Transparency, and Actionable Insights with a Single Solution