SAP Landscape
Wide AIOps
Monitor, manage, and automate any component in the SAP ecosystem (and outside)
Full Range of SAP Products
Avantra manages, monitors, and automates a wide range of SAP products.
As a Silver SAP Partner and technology provider for SAP-centric business, Avantra provides monitoring, management, and automation for SAP products across your entire landscape.
Here is the list:
SAP S/4HANA
SAP S/4HANA Finance
SAP BI (Business Intelligence)
SAP LT (Landscape Transformation)
SAP Business Suite
SAP ERP 6.0 (Enterprise Resource Planning)
SAP CRM 7.0 (Customer Relationship Management)
SAP SRM (Supplier Relationship Management)
SAP SCM (Supply Chain Management)
SAP PLM (Product Lifecycle Management)

SAP GTS (Global Trade Services)
SAP PI (Process Integration)
SAP TREX
SAP Business Objects
SAP Solution Manager
SAP WebDispatcher
mySAP (ERP, SRM, CRM, APO, BI)
SAP R3 (4.6D, 4.7)
SAP SaaS products (SuccessFactor, Concur)
SAP HANA Enterprise Cloud (HEC)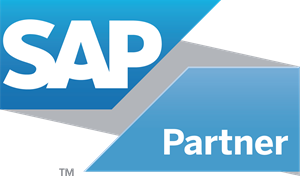 Monitoring for SAP and non-SAP SaaS
Monitor both SAP SaaS, third-party SaaS, and web services with ease.
Using its built-in SaaS support, Avantra can manage, monitor, and automate a full range of SAP SaaS products, including SAP Concur and SAP SuccessFactors, as well as applications deployed on the SAP Cloud Platform. Besides SAP components, however, a typical cloud-based IT landscape contains other applications which need to be monitored. Avantra provides monitoring for both SAP and third-party SaaS products, as well as apps developed internally or by third parties. Avantra can mine the interfaces for these services and automatically set up performance monitors for them.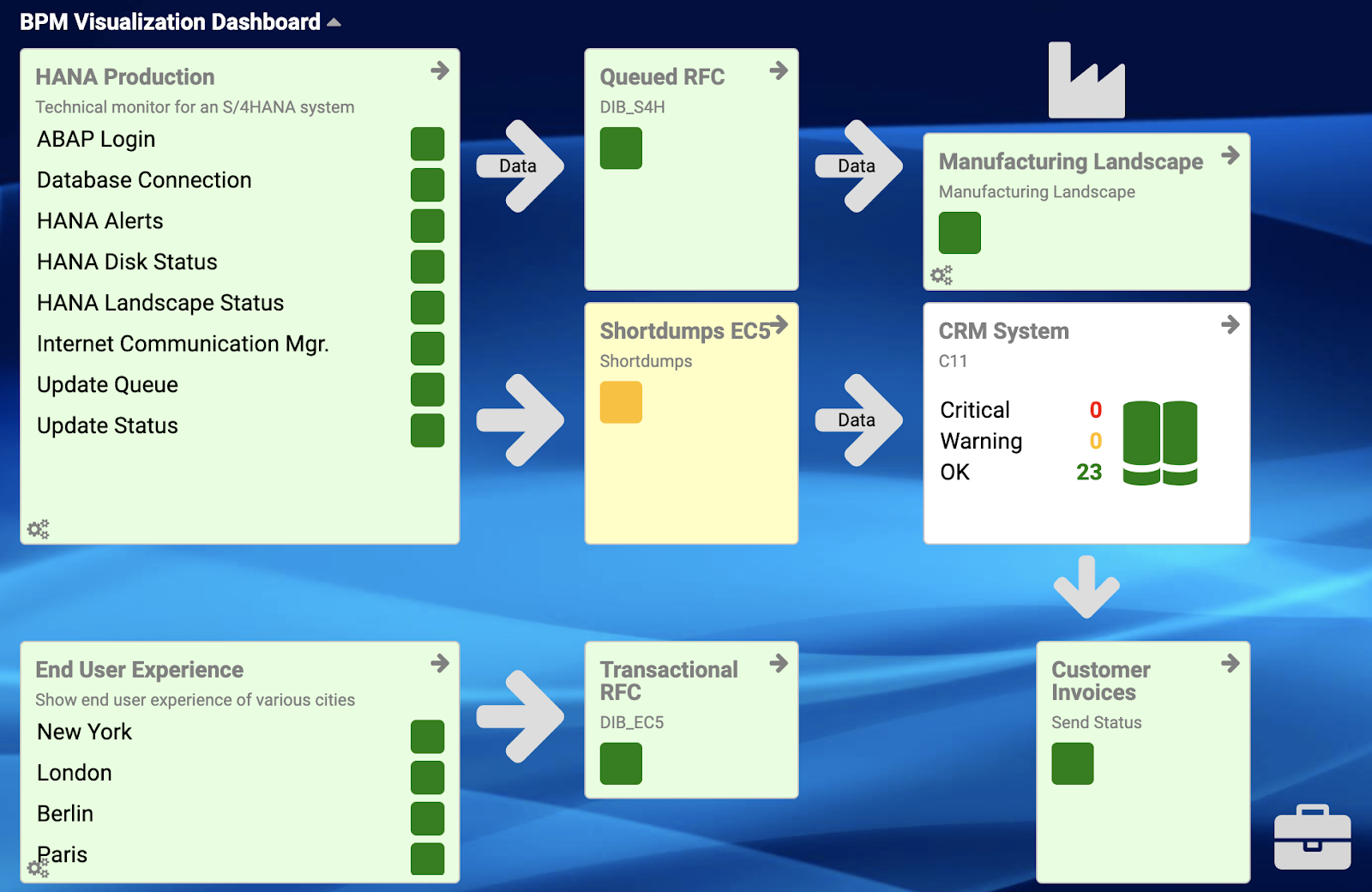 Built-In Best Practice Checks for SAP and Non-SAP
Get hundreds of best-practice checks, automatically applied right out of the box.
What if you could rest easy, knowing all your systems, applications, and databases are properly monitored with best-practice checks? Whether the applications are from SAP or another vendor, Avantra automatically detects and applies checks from its library of nearly 160 built-in best-practice checks. These include a wide variety of performance monitoring for SAP and non-SAP databases, user interfaces, application and middleware, operating systems, security, auditing, and more. (The list is always growing, but you can see a complete, detailed list of built-in checks in the Avantra Product Overview.)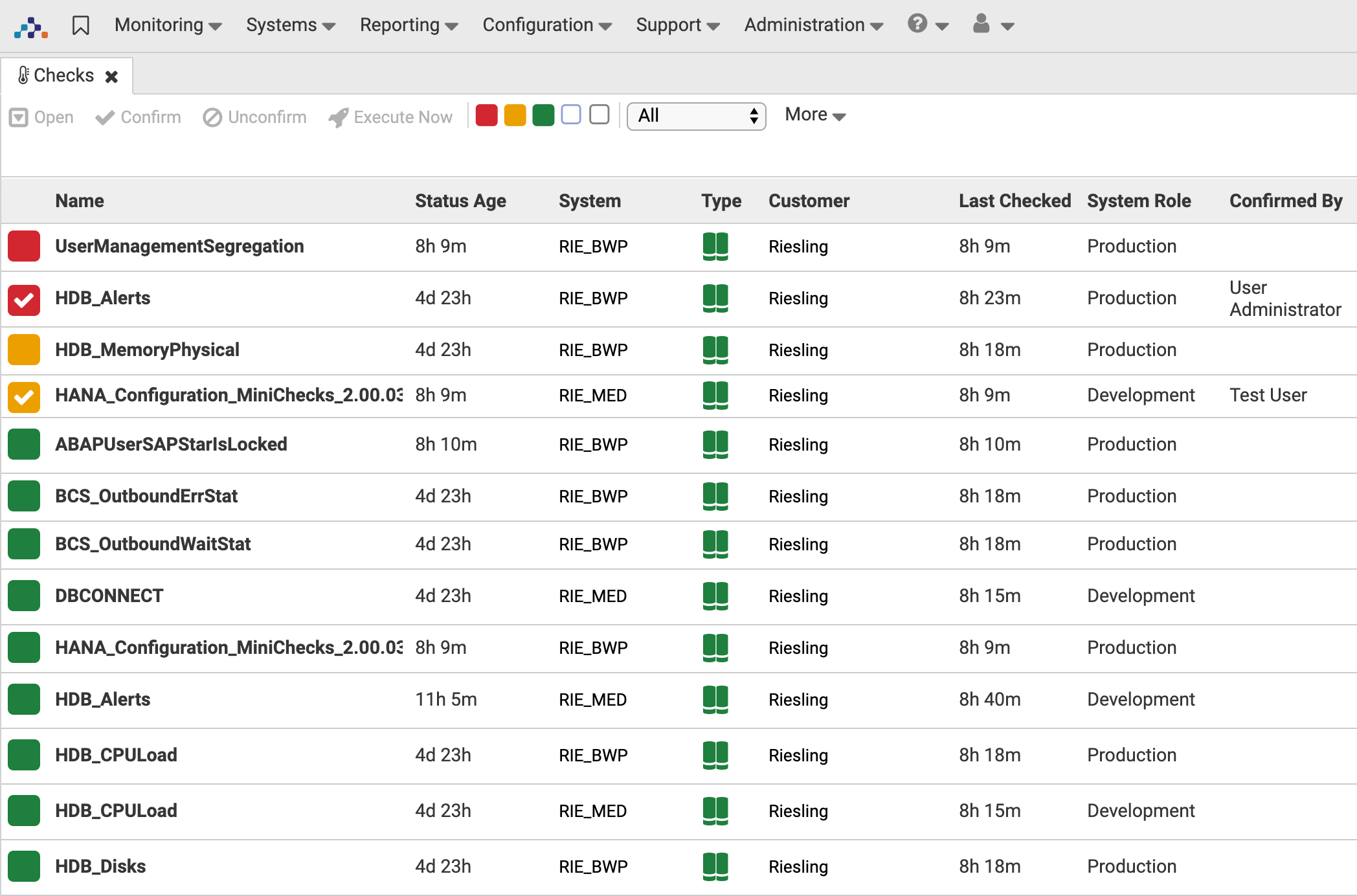 Managed Technologies
We manage a variety of technologies—because every SAP-centric landscape is unique.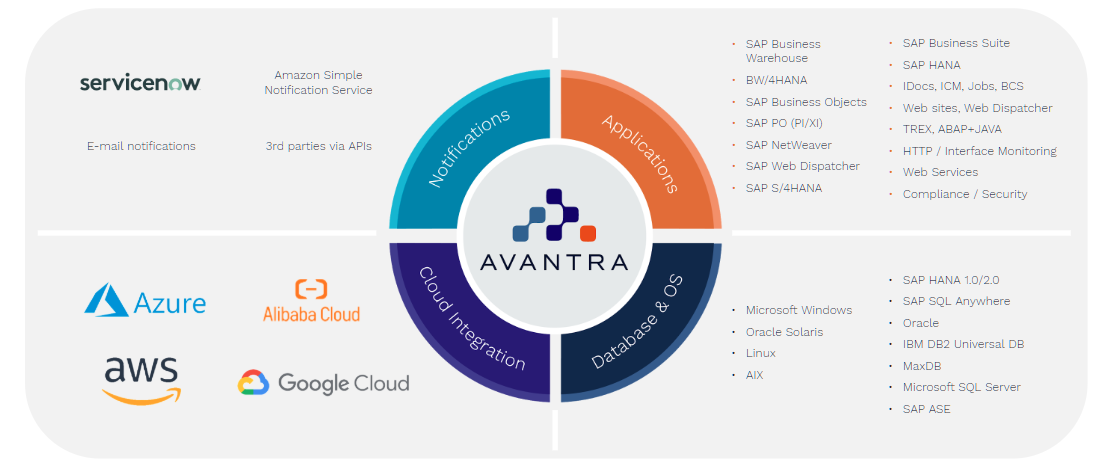 Increase SAP Automation, Operational Transparency, and Actionable Insights with a Single Solution
Using Avantra we prevented 2 Major Failures in SAP Production Systems. We've also reduced server updates implemented to just 1 to 2 hours, post-processing of system copies reduced from 3 hours to 3 minutes and adding a new system to the monitoring process reduced from half a day to just 30 minutes