6 min read
2019 Cloud Computing Trends (and Why Your Company Should Care About Them)
By: Avantra on Feb 19, 2019 3:49:00 PM
Cloud computing has exploded, taking over virtually every industry. Read on to explore its fascinating history, as well as future trends in cloud computing.
Before we jump into 2019 cloud computing trends and why they matter, let's take a brief look at where cloud computing started and how traditionally non-SaaS solutions like SAP are adapting to this ever-changing market.
A Short History of Cloud Computing
Nobody is certain of when exactly "the cloud" became more than a white cotton ball in the sky. Many believe the term was first coined in 2006, when companies like Google and Amazon started using "cloud computing" to explain the shift towards software being accessed online, rather than via desktop.
Some, on the other hand, believe "the cloud" is merely an evolutionary byproduct of 1950's mainframe computing.
The 1970s saw the creation of the first virtual machines (VMs) which allowed us to execute multiple operating systems simultaneously. And it was this new concept of virtualization that paved the way for modern cloud computing through the 90s.
Shortly before the turn of the new Millenium, Salesforce became the first company to provide software over the internet – trailblazing the way for the SaaS revolution. Since then, companies like Google Cloud Platform (GCP), Amazon Web Services (AWS), and Microsoft Azure have progressed to become user favorites for cloud platforms, accounting for more than 50% of the cloud market between them.
SAP's Changing Relationship with Cloud Computing
SAP was established in 1972 and launched its now flagship product, Business Suite, twenty years later. Business Suite is a bundle of end-to-end enterprise software applications and comes in 24 industry-specific variants with functional components such as:
Enterprise Resource Planning (ERP)
Customer Relationship Management (CRM)
Supplier Relationship Management (SRM)
Supply Chain Management (SCM)
Due to constant technological innovation and new solutions, the software still meets all modern requirements. However, the core of the system was not designed as a SaaS solution. As the Business Suite can't be transformed into a SaaS solution, SAP started the development of pure SaaS products instead:
In 2007, it introduced a new SaaS-based ERP solution called SAP Business ByDesign
In 2011, SAP announced their first SaaS solutions, which didn't offer full ERP functionality, but instead focused on specific processes within a line of business. With the acquisition of Success Factor and later Ariba, SAP expanded their cloud-based offering
In 2012, their cloud-based offering within the SAP HANA Cloud portfolio was unveiled. It was later renamed to the "SAP Cloud Platform" and formed the foundation of SAP cloud products, including the SAP BusinessObjects Cloud
In addition to its own cloud platform, SAP has worked with leading cloud providers and hyperscalers like AWS, Microsoft Azure, GCP, and many others. SAP has empowered companies of all sizes to fully realize all the benefits of the SAP HANA in-memory computing platform on these public and private cloud platforms.
The Current State of the Cloud Market
The latest market research concerning cloud usage, plans, deployment models, and investments indicates that the majority of companies have started their migration to the cloud in some way, too.
"Data gathered from the 2018 Cloud Computing Survey conducted by IDG indicates that 73% of organizations have at least one application, or a portion of their computing infrastructure already in the cloud, with 17% planning to do so within the next 12 months."
As companies begin, and continue, to make the transition to the cloud at their own pace, many large enterprises are following cloud deployment plans that involve migrating their SAP systems to the cloud while keeping some of them on-premise. A large portion of these enterprises are expected to maintain a hybrid solution for at least 24 to 36 months.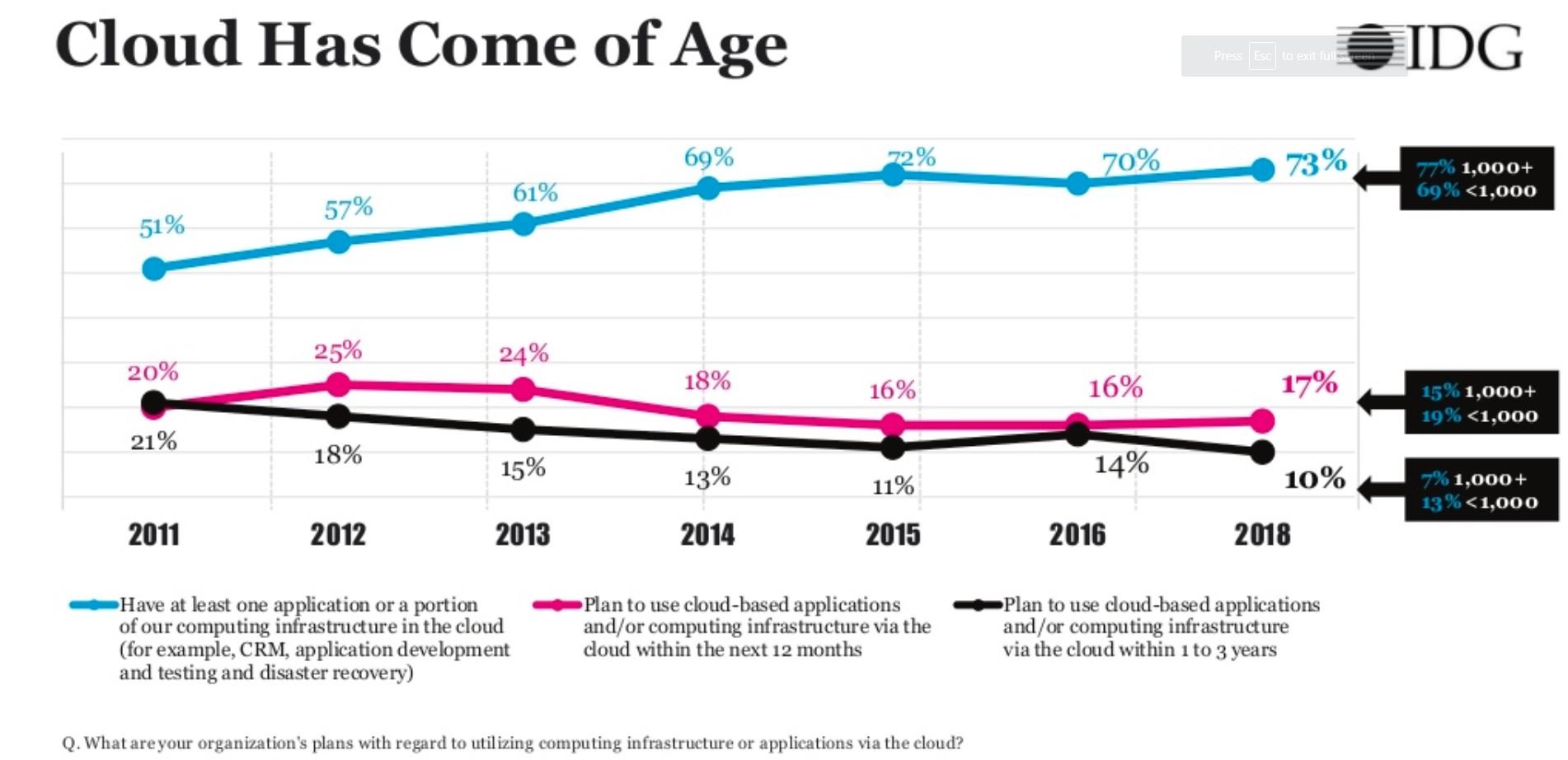 Source: 2018 Cloud Computing Survey conducted by IDG
In fact, research from Gartner showed that 72% of enterprises expect hybrid cloud will eventually be the primary cloud usage model.
"Organizations are utilizing a mix of cloud delivery models. Currently, the average environment is 53% non-cloud, 23% SaaS, 16% IaaS and 9% PaaS; however, these numbers will evolve to only 31% non-cloud within 18 months."
Despite the current mix of cloud delivery models, technology decision makers report a strong push to move all systems to the cloud in the very near future. More than 38% of IDG survey respondents say their IT department feels the pressure to migrate 100% to the cloud.
The question remains: how quickly will companies migrate to the cloud to drive their businesses forward?
Three Main Benefits of Cloud Migration
Why exactly does cloud technology and its related services appeal to organizations?
Naturally, each organization will have different motivations for moving to the cloud based on their size, their industry, and their overall goals; nonetheless, the following three benefits have emerged at the top of most companies' lists:
1. Migrating to the cloud significantly lowers IT costs.
With a successful cloud migration comes fewer hardware-related costs. For many companies, hardware is typically a large expense; running on the cloud means hardware needs are now the vendor's responsibility.
Saying goodbye to large, power-consuming data centers will also reduce internal power costs, while simultaneously freeing up previously unavailable office space.
Syslink Xandria moved data centers to the cloud and cut 90% of the company's electricity costs.
With more office space and fewer to no data centers to monitor and maintain, moving to the cloud also requires fewer IT personnel. As a result, IT personnel can shift their focus from daily maintenance tasks to strategic growth initiatives.
2. Utilizing cloud technology enables faster time-to-market.
In addition to cutting hardware, energy, real estate, companies are driven to migrate to the cloud to experience true business agility and be able to assign their IT personal toward innovation instead of hardware maintenance.
Storing systems on the cloud enables companies to respond to market and operational shifts faster, getting new products out the door quicker than ever before. How? By always having the resources available to evaluate and test new innovative technologies.
Recent research conducted by IBM shows that cloud adoption fosters innovation because it can transcend geographic, industrial, organizational, and operational barriers. Cloud accelerates innovation by enabling quick prototyping of new ideas and fast experimentation, which is otherwise harder in the traditional on-premise environment.
3. The cloud offers better service quality compared to traditional IT offerings.
On top of increased business agility that boosts knowledge sharing and overall productivity, migrating to the cloud allows companies to provide better service to their employees and customers. Customer information and inquiries are available in real-time on the cloud; this data enables customer service representatives to be more informed, more responsive, and more empowered to resolve customer issues.
Working on the cloud enables IT departments to respond to business needs in minutes, as opposed to waiting days or weeks for a physical server to procure and provision.
Cloud services like AWS, Microsoft Azure, and GCP appeal to many organizations because of their stated features:
Pay-per-use
Ability to scale up or down based on usage
High resiliency
Self-service
Higher up-to-date security
And more
All these benefits are expected to lead to much lower IT costs, faster time-to-market, and better service quality when stacked up against traditional IT offerings.
How Does SAP Thrive in a Cloud-based World?
While the above-mentioned benefits are strong motivators to migrate to the cloud, many companies need traditionally on-premise Enterprise Resource Planning (ERP) solutions, such as SAP, for daily business. To keep pace with the market, many SAP users are jumping two hurdles with one leap by using HANA migration timing to migrate to the cloud – making it one big migration.
While not technically tied to each other, the use of AWS, Microsoft Azure, or GCP for their HANA migration gives them a way to experiment, without affecting the ongoing operation.
The most obvious expected benefit from migrating SAP to the cloud is cost savings, but research shows that companies are seeing higher than expected cloud costs along with other challenges of running SAP on the cloud such as scalability, hybrid landscape performance management, monitoring, and visibility.
We love how the cloud helps companies reduce costs, collaborate faster and improve customer service, but like everything in life, it comes with its unique challenges.
Learn how you can overcome the challenges of running SAP on the cloud by listening to our webinar: The unique challenges and hidden benefits of SAP in the cloud.