Can I get visibility and identify SAP root-cause in my ServiceNow event management dataset?
ServiceNow is great for incident management, routing them, and sending notifications based on the system and business ownership stored in the CMDB. With Avantra, you can leverage these capabilities for tracking and routing SAP issues. When Avantra identifies an SAP issue, it automatically creates an incident in ServiceNow, where it categorized and routed back to Avantra for remediation. Avantra highlights the root cause and in some cases, it can even resolve the problem automatically. After verifying the resolution, Avantra reports it to ServiceNow and no further action is needed. In addition, as further feedback and insights are gathered, Avantra's early detection and incident remediation can prevent such problems from recurring in the future.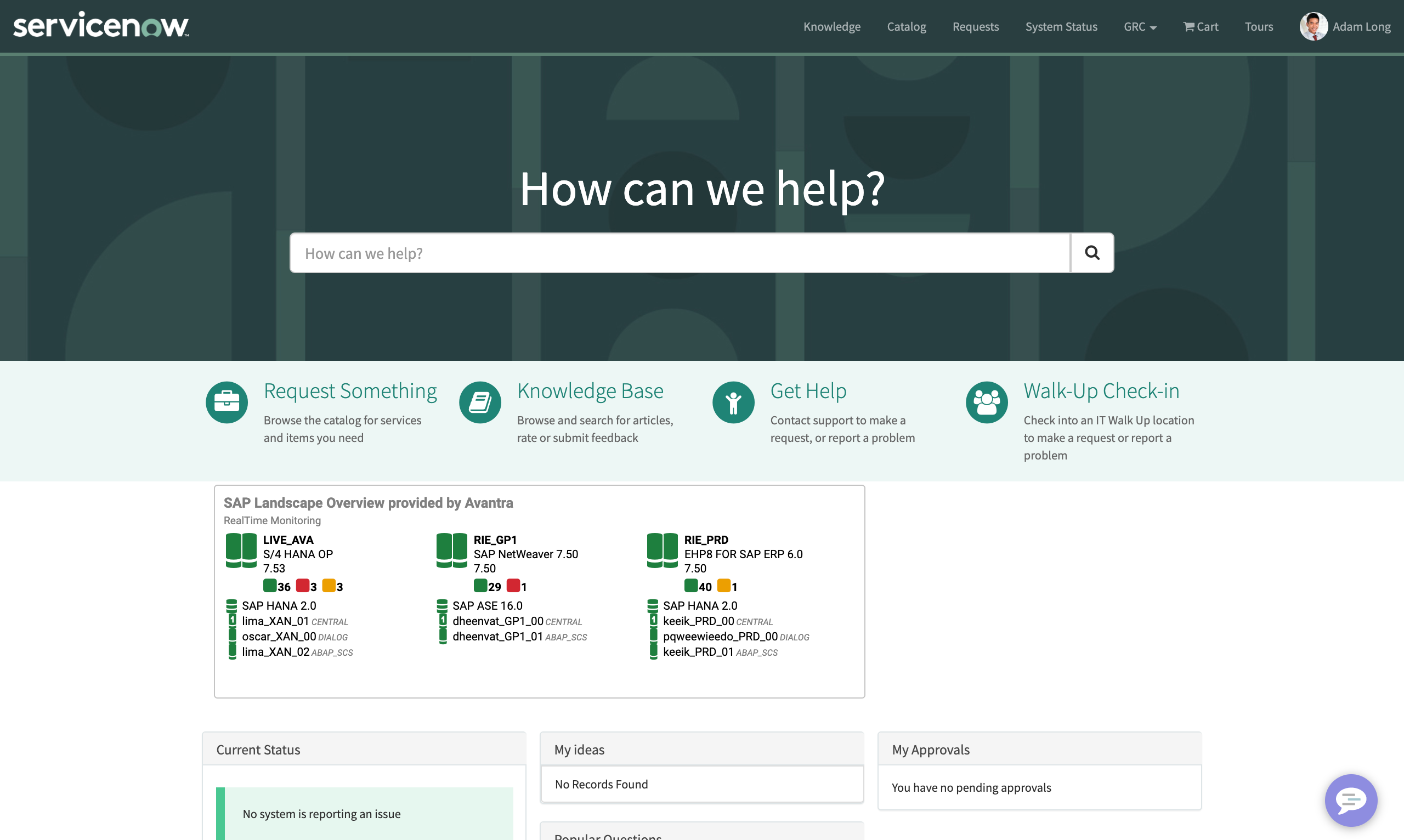 SAP in CMDB
Can I see SAP asset inventory and data in my ServiceNow CMDB?
The CMDB is the core of ServiceNow, housing all configuration data related to your IT infrastructure. However, most organizations have no way of maintaining current data on their SAP systems in the CMDB. With Avantra, you can. Avantra's two-way integration enriches ServiceNow CMDB data with detailed SAP asset/inventory data and dependency mapping, as well as automatic tracking and synchronization of any configuration changes. Your IT Ops team will always know which SAP changes will affect which systems and business users, and they'll always be compliance- and audit-ready.



Remediation
Can I auto-scale, remediate, and patch SAP landscapes based on business needs?
Avantra's integration with ServiceNow does more than identify SAP components, make them visible in ServiceNow, and help ServiceNow users quickly identify the root causes of service issues involving those components. It can also automatically scale those components based on performance criteria, remediate common conditions, and ensure each one is at the proper patch level.ServiceNow can route issues like service incidents, performance bottlenecks, out-of-date patches back to Avantra, allowing its advanced AIOps and automation platform to orchestrate remediation of the issue. Remediation can be guided via interactions with ServiceNow operators, or it can be partially or completely automated—with operator approval—based on advanced ML models. Avantra then reports the results of the operation to the ServiceNow operator.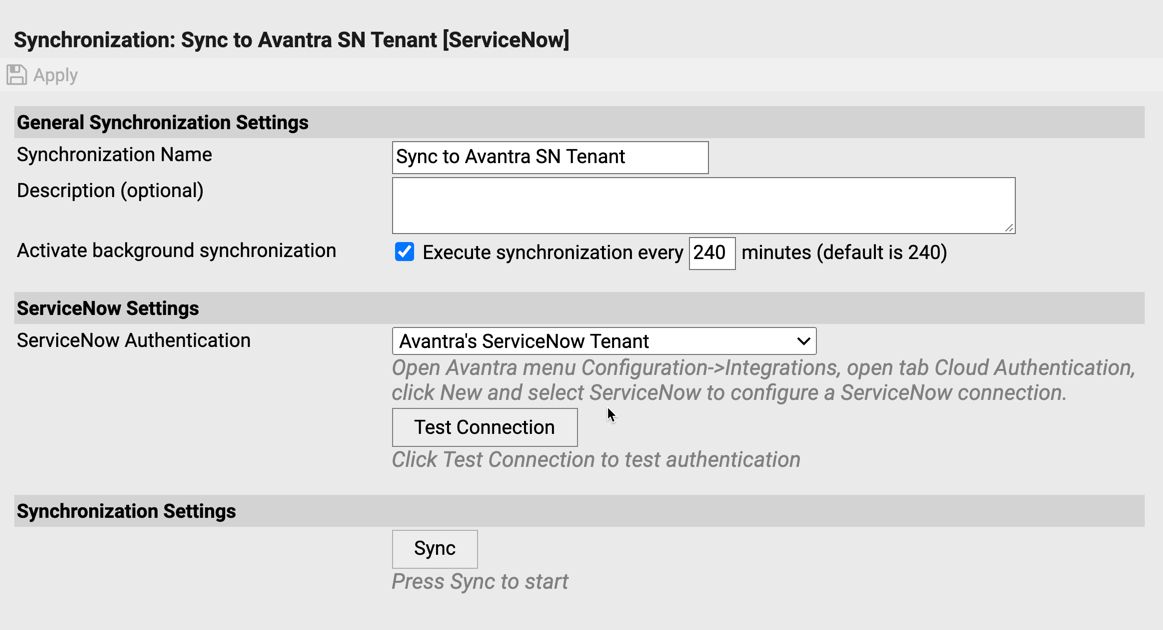 ServiceNow Marketplace
Can I find out about the Avantra connector from the ServiceNow Marketplace?
Avantra helps ServiceNow and SAP customers to improve the business experience, performance, and compliance, focus valuable resources on digital transformation, and reduce operational cost.Available in the ServiceNow Marketplace, Avantra's ServiceNow connector is free and simple to install, connects your systems in minutes, and allows you to:
Automatically create ServiceNow incidents populated with detailed SAP performance and landscape data to enable faster issue resolution
Synchronize between ServiceNow CMDB and Avantra to ensure all SAP objects are monitored
And much more.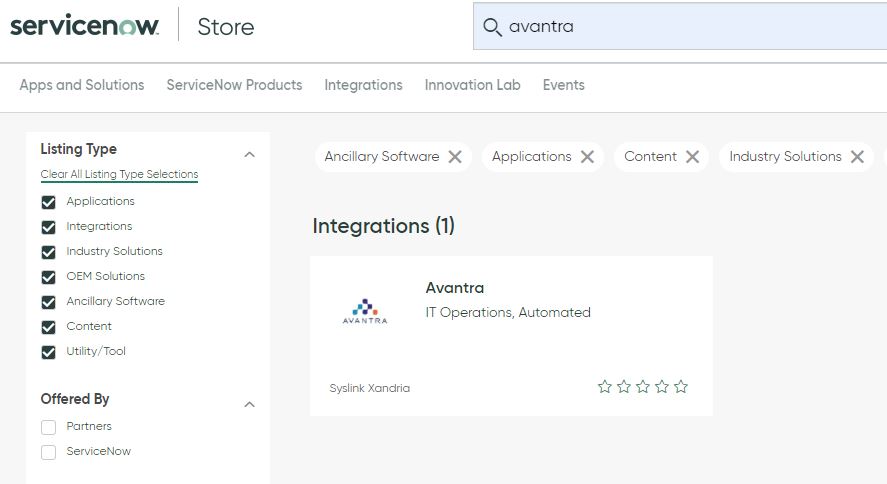 Extend ServiceNow capabilities across your SAP landscape