5 min read
The Avantra customer spotlight series: Four customer stories and four events over one month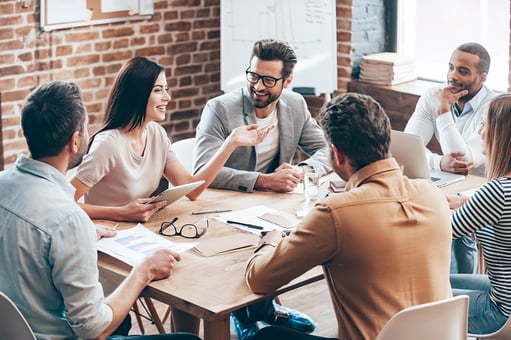 Brenton, Chief Customer Officer at Avantra, outlines four fantastic customer success stories being told at events across the globe this month of November. From RISE with SAP assurance for a manufacturer to customer differentiation for an MSP, these stories cover it all.
One of my favorite things in my role as Chief Customer Officer is to hear customer stories, especially when those stories focus on how their business has been positively impacted through the work we do at Avantra. This is why I'm so excited as we enter November this year. As a company, we're attending four big events where we will be speaking with four of our customers telling relatable and experience based stories about their journey through AIOps.
Whether I'm purchasing services, software or hardware, for me it's all about hearing from the customers of the businesses I am engaging and so I understand the importance of sharing these stories, from our customers, with the world. This is why we've put so much emphasis this year on helping our customers to tell their story.
So far this year we've told stories from:
This is already a fantastic list for the year (and I'm sure I've missed a few others), but we're only getting started. Here is what is coming next:
Fujitsu @ TechEd Bangalore, Nov 2nd & 3rd
First up is SAP TechEd which, this year, is coming from Bangalore in India, a fantastic location choice considering the wealth of technical knowledge, especially in the SAP world, that exists in India.
Our customer here is Fujitsu and our customer speaker is Ajit Deshmukh, Fujitsu's Senior Director and Head of Intelligent AMS (iAMS). Ajit will be speaking with our customer success manager Tim Reiss about Fujitsu's newly launched Intelligent Basis AMS offering powered by Avantra.
Fujitsu are managing a wide range of SAP products and versions hosted on an equally wide range of platforms from public cloud to on-prem and they needed a way to see the issues across all these systems in a single dashboard. Crucially, they also needed to automate repetitive, inefficient, and error prone tasks across all their customer landscapes. This is where our partnership began.
If you're attending SAP TechEd Bangalore, I would highly recommend seeking out Ajit and Tim to hear more. Session IN227 on Thursday, November 02, 2023 at 2pm on the "Integration | Deep Dive Into API and Event-Driven Integration" track.
Rackspace @ ASUG Tech Connect New Orleans, Nov 7th - 9th
Our second November event takes us to one of my favourite cities, New Orleans, Louisiana in the United States which is playing host to ASUG's first TechConnect conference. Aimed at a mix between business leaders and technical leaders, this conference is shaping up to sit somewhere between what SAP TechEd in LasVegas used to be and SAPPHIRE in Orlando.
Taking the stage with me on Tuesday is Dustin Little, SAP Operations lead from our customer Rackspace to talk about their journey from manual SAP operations through to leading with an automation first offering that is proving a differentiator in the market.
Dustin will cover the reasons that Rackspace went down the route they did, the skill sets required to get up and running and the major lessons that they, as a team, have taken forward. As part of this session we will also host an audience Q&A so we encourage all attendees to bring their questions and we'll do our best to get you answers.
If you're attending ASUG Tech Connect, myself and Dustin would love to hear from you. Room 210 on Tuesday, November 07, 2023 at 10:15am.
Radisson Hotel Group @ SAPinsider EMEA Copenhagen, Nov 14th - 16th
Next up, and we're in Copenhagen at the SAPinsider main event for EMEA. Three days of fantastic stories and keynotes at the Tivoli Hotel on the banks of the Sydhavnen river on the outskirts of Copenhagen. If you haven't been here before, Copenhagen is a fabulous location for this event.
Radisson Hotel Group (RHG) will be on-stage with us to talk about their journey with Avantra and how they are using AIOps to protect their system uptime and stability in a world where minutes of downtime can have huge consequences. It is a fantastic story that started with AIOps observability to ensure a complete understanding of everything happening as it happened across their SAP and non SAP landscape and now they are transitioning to AIOps automation to transform their remaining manual effort to focus on business innovation.
Our customer speaker is Enrique Fuster, SAP Architect and Project leader for Radisson Hotel Group. The session is on Wednesday, November 15th, 2023 at 10:30am.
Howdens @ UKISUG Birmingham UK, Nov 26th - 28th
Our last event, but not least, is the SAP User Group conference for the UK and Ireland. As well as being close to home for me, this event is, and always has been, one that I really enjoy attending. It is a fantastic sharing event where you can hear from real grass roots organizations to get honest and direct coal face stories.
Joining myself and John Appleby, our CEO, on stage will be Martin Gillon, Head of Technical Operations from Howdens, the UK's Number 1 Trade Kitchen Supplier. SAP is a critical component of the Howdens technical operations chain and must be available to the business at all times with no slow downs, outages or disruptions. Howdens use Avantra today to ensure the integrity of their business operations, for auditing across their landscape and much more, but now there is a new focus.
As Howdens plan their RISE migration to be executed over the coming months and years, protecting the integrity of the business operations is key and this is where Avantra is key both now and as they operate in their RISE environment.
Join us to hear about how Howdens are planning for this journey and how having an AIOps platform is key to protecting their business operations when operating in a RISE environment. Look for us in the "Business Process Insight, Automation and AI" track to learn more.