7 min read
Automating SAP operations in hybrid landscapes - CTO interview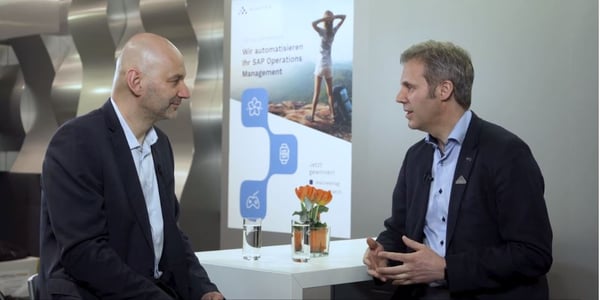 At DSAG technology days 2020, Helge Sanden from IT-Onlinemagazin, sat to interview Bernd Engist, CTO of Avantra, on AI, automation and how Avantra came to be.
Watch the video in German with English subtitles, or read the transcript below.
Helge Sanden:
The world of SAP is in motion and I'm here at the technology days hosted by the German-speaking SAP user group (DSAG). I'm about to interview Bernd Engist, CTO of Avantra and an expert in SAP operations automation, and I'm looking forward to talking to him about AI and how to stay on top of hybrid landscapes.
Helge Sanden:
Mr. Engist, it used to be that SAP was integrated and hosted on-premises. Today, we're looking at distributed hybrid landscapes. How can companies manage to stay on top of their SAP operations?
Bernd Engist:
It's definitely true that today's system landscapes are much more complex. We're dealing with additional and never-before-seen interfaces. On the one hand, we are seeing infrastructure-as-a-service and software-as-a-service reducing workloads as providers handle every aspect of managing their platforms. But on the other hand, this also creates new challenges. After all, these interfaces have to be monitored somehow. This is where automated monitoring of the plug-in the ERP or SAP S/4HANA backend becomes very helpful. But companies also need to be able to monitor their SaaS solutions. This makes it necessary to query the APIs – ideally SAP monitoring interfaces – and then look at everything, that is, the on-premises SAP system, the interfaces, and the SaaS solution in their overall context. This is the pinnacle that delivers the visibility we need to always stay on top.
Helge Sanden:
Many end-to-end processes move through a variety of systems. How can SAP administrators ensure the continuity of business processes? Because in the end, that's what it's all about.
Bernd Engist:
In our experience, the people who build and maintain these interfaces have a great deal of expertise. They know exactly what they need to look out for and they're very much aware of all of the ways those processes can go awry. Harvesting this expertise and establishing an automatic monitoring system is where the real added value comes from. But to get to where we need to be, you also have to be able to put these checks into intuitive dashboards – along with every step of the process – and, ideally, to complement this with auto-response mechanisms in case something does go wrong.
One great example is one of our industrial manufacturing customers. A hidden champion with roughly 3 billion in revenues, their people are among the best and brightest in the SAP operations space. Until recently, they were firm believers in a no-cloud strategy because they were set on doing everything themselves. This has transformed into an on-premises-first mindset, because today there's no escaping the use of cloud applications. One example is the SAP Cloud Platform Integration that allows them to digitally exchange documents with tax authorities. We built new checks for this very purpose that automate the monitoring of this process, sparing their employees from having to perform manual checks every day.
Helge Sanden:
What do SAP customers today need to put their minds at ease?
Bernd Engist:
They need visibility. Not just into their own systems, but also into their interfaces and third-party systems. They need a bird's eye view. And that's where intelligent dashboards and automation come into play. They not only save you a lot of money, they also help you improve the quality of operations. That's what they need. And that's what we mean when we talk about run automation. Some of our customers have systems that are so crucial to their business that any failure would grind their worldwide spare parts sales to a halt. They have large monitors all over their departments that show them every last detail. They sometimes switch from dashboard to dashboard and that's exactly the level of visibility that IT managers need.
Helge Sanden:
What do these changes mean for service providers?
Bernd Engist:
They come with new challenges for them, but also with new opportunities. Infrastructure-as-a-service in particular is a space where they can be an asset to their customers – for example by helping them migrate to the cloud. The key here is right-sizing and tight-sizing. Because otherwise you could be spending way more on the cloud than you anticipated, potentially even exceeding the cost of on-premises deployments and no one wants that. What is also crucial here is the ability to send unused systems "to sleep". The other day I heard "snooze-so-you-don't-loose" in a Microsoft presentation. I found that to be quite interesting. There certainly is a new breed of managed service providers. They don't require their own data centers. Some of them have already approached us about their need to, for example, automatically start and stop systems that are deployed in the cloud. And then there's self-service. Some of these systems are used maybe once a month for testing purposes. Customers want to able to power up the system themselves, conduct their tests, and then shut it back down. This requires a combination of automation and monitoring. That's what service providers want.
Helge Sanden:
Everyone is talking about automation and AI. Where are your products on this? And what's in store for the future?
Bernd Engist:
We've always – basically forever – had features to predict, for example, system growth. Or we have features that tell you "if a resource keeps growing like that, it will fill up in two hours" – we call it forecasting. There's nothing new for us there. What we're doing is focusing on the I in AI – we're going for intelligent automation. For example, we'll soon be able to offer our customers automatic kernel updates. We'll be able to tell the SAP admin: "There's a new SAP kernel update. Would you like us to apply it?" On top of that, we'll also know when the load on the system is low and automatically suggest the best time to do it. All they need to do is say, alright, let's do it then. That brings significant added value to large landscapes in particular as it takes all the manual work out of the equation. We'll be investing a lot more money into this future, that is, into this build space. Moving forward, our plan is to automate patch management and even upgrades.
Helge Sanden:
Which is also important because of ever-shorter release cycles, right?
Bernd Engist:
Yes, of course. Security is always an issue as well. Companies today simply can't afford to not keep their system up to date, fully patched, and secure.
Then there's the A in AI. There are some very interesting issues here as well. I believe there are certain applications that wouldn't even be possible without machine learning and the ubiquitous AI. In our line of business, there really are some very intriguing applications when it comes to detecting anomalies in the systems that traditional monitoring approaches would miss. That's another thing we'll be working on.
Helge Sanden:
How long does it take to implement such a solution and what should companies take into consideration?
Bernd Engist:
I'm very proud to say that this is an area where we excel. Our implementation time is incredibly short. It's usually the organizational hurdles in the companies themselves that take up most of the time, you know, bringing everyone on board and so on. Upgrading our solution is quick and easy too – takes less than five minutes. That's an advantage that is particularly appealing to our large customers who have landscapes with 750 SAP systems. They simply can't afford to "fly blind" and go without monitoring for hours on end. It's also important to plan ahead when it comes to projects such as S/4HANA migrations and to factor in how they want to operate the future solution and not wait until the very end and go: "Oh yeah, that's something we need to run as well and monitoring would be nice too."
There's also customers who have done a good deal of work already. To them, integration with their landscape plays a major role. Just the other day, one of our automotive customers said "integration is automation". They go hand in hand in their organization.
Helge Sanden:
I've always known you and your company as Syslink Xandria. Now it's Avantra. How did that come about?
Bernd Engist:
Yes, we've come up with a new name. A new branding. It's a combination of the words "avant" – "to be ahead" – and "tra", which is short for "trans" – "beyond". We're very proud of our new logo as well. It incorporates a mountain, a reminder of our Swiss heritage. But you can also see system building blocks and their interconnections. One block is colored orange. This points to our monitoring background, which of course we have. And with the new release that is now hitting the market we're really opening a new chapter in automation. Our vision is to transform companies into self-healing enterprises, which sounds quite beautiful in English. In German, not so much. But that's exactly what we're doing. What we want is for systems to monitor and manage themselves as much as possible. Because the people doing it right now have much more important things to do. For example, S/4HANA migrations, other tools, cloud and so on.
We've been getting great feedback. We can feel it here too at the DSAG technology days. Our customers and prospects tell us that they really like what we're doing and approach us with their own ideas. And they have a lot of them. And we love it, of course, because moving forward we can incorporate their ideas into our product development. It's what drives us every day and we love doing it.
Helge Sanden:
Well, Mr. Engist. Thank you very much for your time and keep enjoying yourselves!
Bernd Engist
Thank you!